The story of two men who decided to install a radiant heated driveway.  (Based on true events.)
Digging out from the heavy snow in Aurora, Colorado each winter was a labor-intensive task that had worn Bob down over the years. Despite the rigors of this annual chore, Bob shoveled and salted his walks and driveway faithfully to keep them clear of snow throughout the cold season. But the repeated shoveling had left its mark on his aching back, and the salt had left its mark on the grass that bordered his driveway and sidewalks.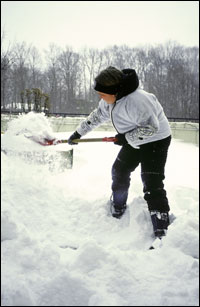 After Bob broke his shovel during a late season storm last year, he started to rethink his winter ritual. He finished clearing the walks as best he could with the hapless shovel and headed to the warmth of his home. He kicked the snow off his boots, stepped into the entryway and hung his coat on a hook.
"I'm so tired of shoveling snow," he muttered to himself. "I gotta see about installing a heated driveway." Bob and his wife were in the process of building a home in Golden, just west of Denver, and planned on moving within a year. Now was an ideal time to learn more about radiant heated snow melting systems.
He pulled the cap off his head and expelled a heavy breath from his exhausted body and collapsed into the chair by his computer. "It doesn't make sense to build a dream home without a dream driveway," he thought, "one with a snow melting system installed." He leaned forward and grabbed the mouse to begin his search for a radiant heat provider.
Meanwhile, over 800 miles away in Cottage Grove, Minnesota, Fred was experiencing the same frustrations, and drawing the same conclusion. As a homeowner he was tired of spending time and money shoveling snow and buying salt every year. Something needed to change.
Tossing the final scoop of snow aside, Fred rested the shovel on his shoulder and conceded, "I'm getting too old for this . . . snow." He'd already cleared the driveway once earlier in the day and was feeling the effects of the workout. He flung the shovel into a corner of the garage and burst into the house with a frustrated groan.
"What's wrong?" his startled wife asked as he threw the door behind him.
"I'm so sick of shoveling snow," he declared. "I'm checkin' out what one of those fancy radiant heated driveways would cost us."
He removed his coat as he stormed into his study where the computer was. "Alright," he grumbled, as if to challenge the computer, "let's see what you've got."
Fred typed "driveway heating" into the search box and clicked on one of the results. The website promised top-of-the-line snow melting systems, so Fred immediately began punching the numbers on his cell phone. The salesperson promised Fred the best system his money could buy, and that installing it in his asphalt driveway wouldn't be a problem. This was music to Fred's ears.
After sending the company the dimensions of his driveway, Fred received an estimate and agreed to move forward. He was assured by the salesman that the heat cable was "top-notch" and the system would be easy to install.
"Next winter," the salesman assured, "you'll be looking out over your clear, snow-free driveway as you're sippin' hot coffee in the morning." And with that being said, Fred made the purchase.
Back in Colorado, Bob had called several radiant heat providers before narrowing his choice down to two companies. After speaking to representatives at each business, it was clear to Bob that Warmzone would be the best choice.
Warmzone carefully considered all the aspects of Bob's snow melting needs (including his location, medium, altitude, available power, etc.) to ensure that his heated driveway would perform as expected. Having learned that a heated driveway is only as good as its installation, Bob was focused on working with experienced professionals who would stay with him throughout the entire installation process. Warmzone listened to Bob and then evaluated all his snowmelt needs to ensure that the right components and system design were determined. Bob also learned that Warmzone offered free online installation training for installers and personal installation support. Knowing that Warmzone was truly committed to providing unmatched customer service helped to put Bob's mind at ease. It was apparent that Warmzone had the expertise, resources and commitment to do the job right.
With Warmzone, Bob received a free quote, and upon his request, a detailed design / layout of his custom system. The layout contained all the power requirements, proper load calculations, breaker sizes, number of breakers, and technical specs up front, making the job for the installer much easier. All of Bob's concerns were resolved prior to any installation taking place. The system was delivered on time and Warmzone's installation support team provided training for Bob's installer. And when the electrician called Warmzone with a question, just to be certain during the install, an expert was immediately available and stayed on the line for as long as needed.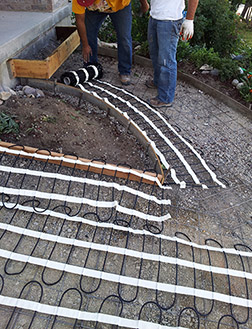 Because snow melting systems are relatively easy to install, most providers don't offer installation training or house a dedicated support staff for installers. But Warmzone's professional training services and installation support staff – in addition to its vast selection of proven products – differentiate Warmzone from other radiant heat providers. Understanding that a snowmelt system is only as good as its installation is why Warmzone is committed to providing the best installation support in the business.
Bob and Fred share tales of two drastically different experiences with radiant heat. With a heated driveway, Bob could enjoy the best of times during the worst of times. Now he's even working with Warmzone to install heated floors in his new home. But poor Fred; his original investment has almost doubled, and his system is still not working the way it should. "Oh, if I could do things over," he grumbled.
A Tale of Two Driveways: Comparing the Experiences of Two Homeowners 
♦  Bob consulted freely with Warmzone and learned a great deal by talking with the experienced rep and reading the wealth of information on Warmzone's website – prior to receiving a free quote.
Fred only learned the basics of the system he purchased, but learned nothing about the specifics of radiant heating systems.
♦  Bob had a wide selection of custom options (including electric and hydronic) to choose from.
Fred was "sold" a "one-size-fits-all" snowmelt system.
♦  Bob requested and received a professional AutoCAD design of his heated driveway at no extra charge. Installation manuals and product documentation were also provided.
Fred received general instructions on how to install his system.
♦  Bob's installer received professional installation training from Warmzone.
Fred was told that most contractors could install the system.
♦  Bob's electrician received personal installation support from a radiant heat expert at Warmzone.
Fred's installer was left on his own to figure out the layout and installation. He discovered that Fred didn't have enough power and that the heat cable was not ideally rated for the weather in his region.

 

Call Warmzone at 888.488.9276 for more information and project consulting, all free of charge, of course!