Automated Driveway Heating Systems Offer a Clean, Affordable Alternative to Manual Snow Removal
With record snowfall from the Midwest to Northeast, many residents are considering upgrading from snow shovels to more automated options like heated driveways. In Amarillo, Texas, a February blizzard surprised residents by dumping over 19 inches of snow in 24 hours, eclipsing a 120-year snowfall record. Even in regularly cold areas like Chicago, where over 1000 flights were canceled due to a December storm in 2012, people see the need to find better ways to keep heavy snowfall from disrupting their daily responsibilities. Beyond the interruption of stopping to shovel snow, property owners are seeing the need to find alternatives to damage caused by corrosive salts and snowplows. Radiant heat for heating driveways and walkways is looking to be one of the best solutions to winter's surprises.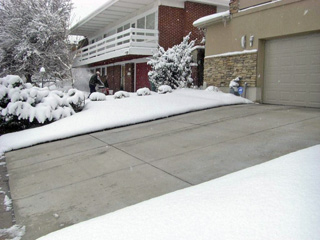 Where snow is more frequent, many home and business owners have already turned to heated driveways and snow melting systems for some very good reasons. These systems turn on only as needed, meaning that no energy is wasted when there is no snow to melt. They further eliminate the cost, hassle, and interruption of snow removal. The best heated driveway systems, like those from Warmzone, feature a rugged, high-tech snow sensor that detects temperature and precipitation. When the temperature is below a set point and snow is detected, the sensor signals the system's control unit, which then sends power to the embedded heat cable to warm the driveway. The heated driveway system remains on for a short period after the storm to ensure that it is clear of ice and snow before shutting off.
Along with the energy efficiency of radiant snow and ice melting systems, home and business owners have come to rely on the automated, maintenance-free advantage found in heated driveways and walkways. Imagine if you are away during a big snowfall. A snow-free driveway is more than a convenience upon arriving home; it makes your home look occupied and less of a target for criminals. You also enjoy the added advantage of the safety it provides. For a home or business, a heated driveway also provides safer access for visitors, delivery people, or anyone coming and going from the building.
Those living in cold climates know that keeping snow and ice away from buildings can help prevent structural damage. Ice can damage concrete both on the surface and by repeatedly building up in cracks. With a driveway heating system, snow and ice are never piled up against a building where ice can melt and refreeze, damaging concrete walls and cracking foundations.
Protect your Home with a Roof Deicing System
Protect your Roof, Gutters, and Downspouts with a Gutter Heat Trace System from Warmzone
If you haven't thought about your roof much this winter, be proactive with a gutter melt system from Warmzone. They are specifically designed to melt ice and snow on roofs, in gutters and downspouts to prevent costly damage, not only to your roof, but for your home as well.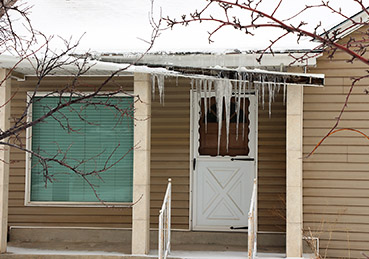 Warmzone radiant roof heating systems quickly melt heavy ice and snow from gutters and trouble spots on your roof. They can be easily installed in existing roofs to prevent icicles, ice buildup and ice dams from occurring. Moisture buildup from ice dams can seep up under shingles and into the roof decking before making its way into your home and causing significant water damage.
Made up of a rugged, durable outer construction designed to withstand winter extremes, Warmzone's RoofHeat self-regulating gutter heating cable is extremely effective, energy efficient and safe. Noted for its durable and self-regulating characteristics, RoofHeat radiant heat cable is one of the most recommended roof heating solutions available. The systems are easy to install and easy to customize.
RoofHeat snow melting systems respond to weather changes to anticipate events conducive to snow fall. Melting occurs as a snow event is happening. And since these roof heating systems are fully automated, there's no switch to flip or roof raking to be done, making snow removal extremely convenient for you. Simply install it and forget it with the knowledge your roof is safely protected.
Warmzone offers the widest selection of radiant heat products, you're assured of getting the best solution for you, at a price you can afford.
For more information on a RoofHeat radiant snow melting systems for your home, visit www.warmzone.com or call 888.488.9276.