Consider a Radiant Roof Heating System When Repairing or Remodeling
In late October of 2012, the largest Atlantic hurricane on record, Hurricane Sandy, crashed into the Northeastern Seaboard, decimating entire neighborhoods in New Jersey, New York, Connecticut, and other eastern states. The tempest left homeowners facing repairs that ranged from replacing a few windows to rebuilding an entire house. New Jersey and New York were particularly affected by Sandy, but as many as 24 states (and much of Eastern Canada) were also impacted by the colossal storm. Damage in the U.S. was estimated at over $63 billion.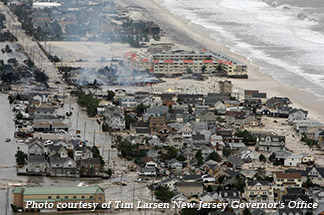 As residents in New Jersey and New York rebuild, there is no better time to consider installing a roof deicing system. Installing a roof heating system is a smart investment, particularly for residents in cold climates such as Connecticut, New Jersey, and New York. Roof deicing systems can eliminate costly repairs in the future by protecting roofs from snow and ice damage. These radiant roof heating systems are installed discreetly under shingles, metal, or most other roof surfaces, and can extend the life of your roof as well as enhance safety.
There are many different types of roof deicing options available that not only can fit your roofing needs, but your budget as well. You can heat the entire roof, just the edge, or only the gutters and downspouts – or any combination. The key for homeowners is to work with radiant heat professionals to determine the best custom roof heating solution for your home. The radiant heat professionals will assist you in finding the best roof deicing solution for you, whether it's heating just the roof's edge, the gutter or both.
Ideally, it is best to install a roof deicing system and a gutter trace system to eliminate ice buildup in the gutter. Ice buildup in the gutter can damage the eaves and downspouts, but beyond that it can be extremely dangerous for pedestrian traffic below. By combining the protection that comes with a roof heating and gutter heating system, the lifespan of a new roof can be extended and the value of a home can be increased.
One of the best roof heating systems on the market that combines roof deicing and gutter deicing is provided by Warmzone, an established leader in the radiant heat industry. Warmzone offers complete roof heating solutions for residents in New Jersey, New York and the Eastern Seaboard, ranging from top products and system design to expert installation support.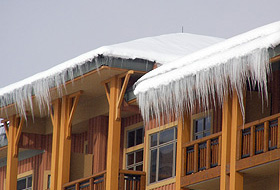 If you're considering installing radiant heat, it's important that you work with trusted professionals with a proven customer service track record, a wide selection of products, complete system design and engineering services, and expert installation support. With Warmzone, you're guaranteed all of these.
Regardless whether you are looking for a roof heating, radiant floor heating, or snow melting solution, you won't find a better partner to work with than Warmzone. The professionals at Warmzone will help you find the right system for your specific needs, as well as provide complete services, and unmatched installation support. The best part is that you have a strong partnership with a company that is committed to customer service and will work with you to ensure that the system meets or exceeds your expectations. Call a radiant heat expert today to learn more about your roof heating options at 888.488.9276.
Send us your project information and receive a free roof heating quote.