Summer has finally given way to fall, and cooler weather means it's time for homeowners to inspect and prepare their homes for the upcoming winter weather. Taking a good look at the house can save money, time, and grief this winter. Experts suggest homeowners inspect specific areas of their homes every spring and fall to prevent costly repairs. One crucial area that needs bi-annual inspection is the roof. This is especially true in cold climate areas where extreme weather can occur during the winter season.
A good roof inspection can head off larger problems and protect the home from its number one enemy, water damage. Begin each inspection by ensuring no large branches or other impediments are resting on or hanging over the roof. Branches over the roof could break off and cause significant damage during a winter storm. Next, check out the gutters and downspouts. Remove any debris or blockages and make sure the downspouts are clear and draining appropriately. After checking the gutters, carefully inspect the roof shingles. Be on the lookout for missing, excessively worn, or loose shingles. These may be potential areas where water can enter the home. If you spot suspicious areas, check your attic for any signs of water damage. While in the attic, check to make sure it is adequately insulated. Faulty insulation allows warm air from the home to escape through the attic, which can lead to ice dams. Warm air in the attic can warm roof just enough to cause the bottom layer of snow on the roof to melt.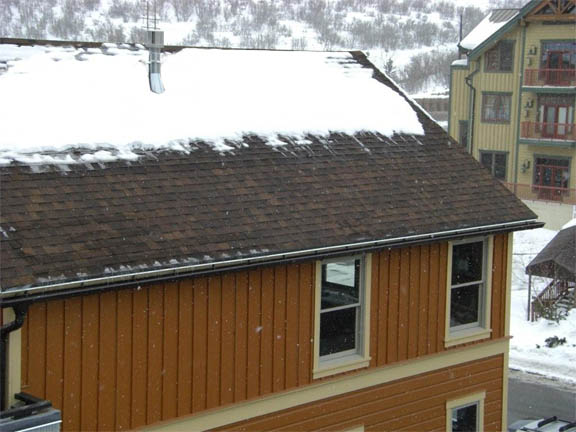 Once the bottom layer of snow melts, the water trickles down the roof and refreezes when it hits the colder eaves. This process creates a ridge of ice. The ice ridge grows as the action repeats itself, creating an ice dam. Pools of water behind the dam can infiltrate every tiny crack or imperfection on the roof. When the water refreezes and expands at night, it can break down the integrity of the roof. Once the roof is damaged, repairs are inevitable. But oftentimes, the problem isn't noticeable through a simple roof shingle inspection. The problem is usually only discovered after water damage has occurred in the home. Interior water damage can be costly, and may include mold, mildew, or other unpleasant issues. Unfortunately, exterior roof repairs can be costly, and problems inside the home caused by water can even pose health risks. Still, most issues can be avoided by being diligent in your roof and attic inspections.
For those who wish to reduce or eliminate the potential for ice dams or other snow and ice issues, installing a roof de-icing system is the ideal solution. Warmzone offers a variety of affordable, industry-leading products for residential and commercial applications. In addition to the variety of systems that are available, each solution can also be easily customized, or different de-icing systems can be combined.
RoofHeat STEP is a discreet, low-voltage system featuring a unique, self-regulating heating element. This semi-conductive flexible polymer heating panel is discreetly installed under the roof shingles. (The system can also be safely used to heat metal roofs.) The heating element is polypropylene fused during fabrication, making it waterproof and protecting it from alkaline or salt damage. The low-voltage system utilizes a transformer that monitors the power and output of the system, and steps down from high to low voltage (60 V or less). The lightweight heating panels are available in 3, 6, 9, or 12-inch widths and are easy to install. They can be cut onsite and nailed or stapled through, facilitating a quick, easy installation. RoofHeat STEP has proven to be an exceptional product for heating roof valleys, roof eaves, trouble spots, and even gutters. It does not require a ground fault switch and provides outstanding performance and efficiency. It is one of the most trusted roof de-icing products available, and is a great choice for any home.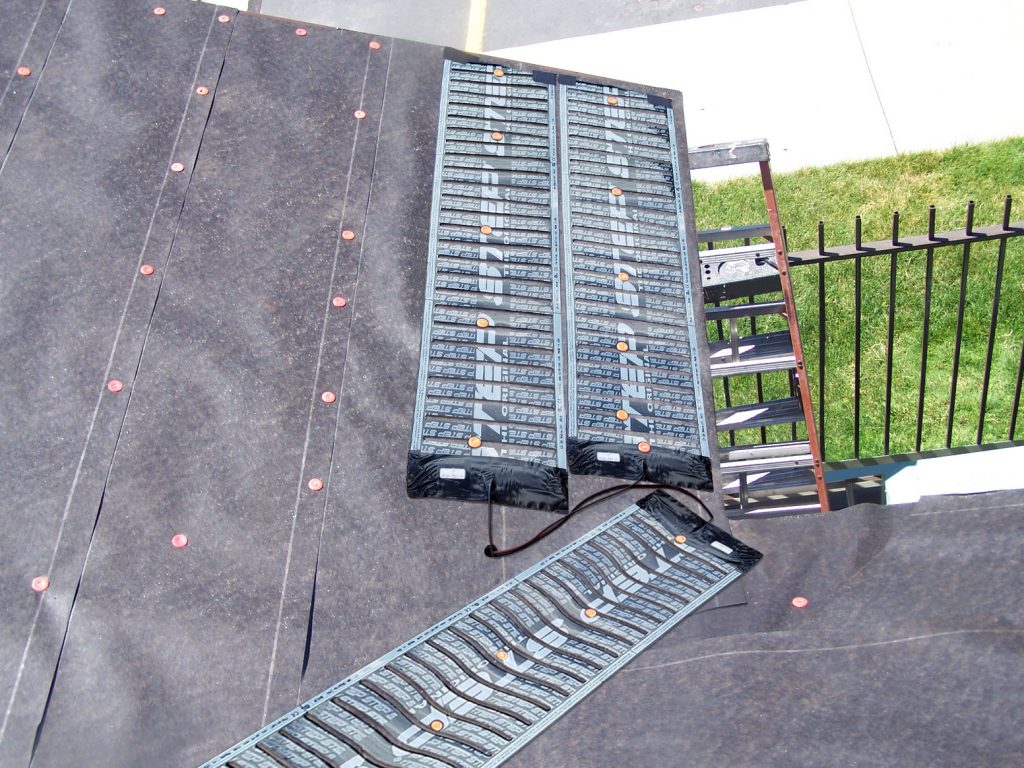 Another great option is a self-regulating heat cable. This affordable, reliable option has been installed in residential homes throughout the country. Self-regulation allows the cable to increase heat output as the temperature falls, and decrease temperature rises. The durable construction and self-regulating properties make this cable extremely efficient, safe, and effective in just about any scenario. Warmzone's cable also comes with a 10-year warranty against manufacturer defects. Its irradiated conductive core regulates heat output, while its durable UV stabilized outer casing protects it from harsh winter conditions. The self-regulating heat trace cable is perfect for providing channels for runoff on roof edges, gutters, downspouts, and more. Self-regulating heat cable offers homeowners an affordable option for their de-icing needs. The cable can be used to effectively heat specific trouble spots, roof valleys, gutters and downspouts, and roof edges.
Warmzone also offers other options for roof de-icing. Another discreet option for heating existing roofs is the RetroRoof system. Featuring thin heating panels with adhesive strips on the top and bottom of the element, RetroRoof panels can be easily installed under existing shingles. This system is also compatible with Warmzone's other industry-leading systems. No matter what the de-icing needs of a home may be, there are options for everyone. Another great option is the SnoFree Panel system, which features self-regulating cable channeled through attractive aluminum panels that promote maximum heat transfer. Warmzone also offers pre-terminated self-regulating heat cable and constant wattage cable, which make ideal solutions for roof de-icing or pipe freeze protection. For more details, contact a roof de-icing expert today. Warmzone's top-notch customer service and industry professionals will ensure that every customer receives a unique system to fit their needs and budget. Each system comes with a system layout with all specifications, as well as installation help and training throughout the process. Call Warmzone at 888-488-9276 and start prepping your home for winter today.