Banish Snow and Ice from your Roof and Gutters, and Protect Pipes with the Industry's Top Self-Regulating Heat Trace Cable
With sub-zero temperatures upon us, the last thing most of us want to do is fool around with manual outdoor snow and ice removal. As the temperatures maintain their frosty grip on much of the country, installing a radiant heat solution for your roof, gutters and pipes is a wise, potentially cost-savings move. Featuring a superior outer jacket and carbon core, making installation in frigid conditions possible, Warmzone self-regulating cable truly is the best choice.
What makes Warmzone's self-regulating cable unique? The outer jacket of other leading brands of heat cable tends to "bubble" or separate from the cable core when the cable is manipulated for turns. These irregularities create stress points on the cable that allow water to reach the core, causing erratic heating and eventual cable failure. To better illustrate this point, consider the photos shown. At a bend radius of about 2 inches, the outer jacket of other popular heating cables bubbles and pulls away from the core, creating a visible stress point prone to water seepage and eventual failure.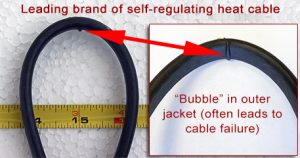 At a bend radius of 1½ inches, the outer jacket of the Warmzone cable is smooth, showing no signs of bubbling. The durable outer jacket is more flexible, so it minimizes "puckering", even at a tight bend radius. These performance differences are extremely important in applications where tight cable manipulation is critical, including gutters, roofs and pipe tracing.
Warmzone self-regulating heat cable can also be installed at much lower temperatures than most, and that's critical if you're in a region prone to colder conditions and in need of a solution right now. That's because the minimum installation temperature for most self-regulating heat cables is 32 – 40°F. At temperatures lower than this, the carbon becomes brittle and prone to breaking when bent or manipulated; and the outer jacket of most competitive cables also tends to stiffen, making it difficult to safely install in cold weather.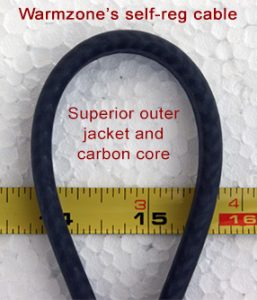 The high quality carbon center of Warmzone's self-regulating radiant heating cable is much more resilient, and can withstand installation temperatures as low as 0°F, making them a safe bet for installation in some rather frosty conditions. Factor in the flexibility of the outer jacket in the same weather and you can expect easier installation and more reliable performance.
If you've decided on Warmzone radiant heating cable, perhaps the hardest sell is finding the right installation team for the job on short notice. Warmzone can help with that too. They've forged deep relationships with wholesalers and general contractors across the country to deliver the most advanced, reliable snow melting solutions around, and they're a great resource for installation support. Just give them a call at 888.488.9276 and discover how Warmzone can keep ice off the roof, out of the gutter and away from your pipes.
Warmzone Design and Support Services
Warmzone Customer Service is Second to None
If you're one of many savvy business owners intent on growing your business with radiant heat, Warmzone's design services are an invaluable resource. Each and every radiant heat solution you purchase from Warmzone comes with a professional consultation, including an AutoCAD system design, so you'll know the exact power requirements and performance expectations for your project prior to installation. These services are second to none in the industry, and are included with your purchase.
Overwhelmed by the prospect of tackling something new? Warmzone's design team can take a lot of the work and headache out of the equation for you so you can competently recommend and deliver the right radiant heat solution for your customers. Our experts free you up to do what you do best, so there's no need to feel overwhelmed by the prospects of installing a radiant heat system when you work with Warmzone. If you can send us a rough drawing of the project on a piece of paper or describe it over the phone, Warmzone will take care of the details from there. We'll specify the correct materials, load calculations, breaker sizes, the number of breakers you'll need, etc. So again, don't be intimidated by installing radiant heat. Warmzone will take care of the details as well as provide personal installation support. When you partner with Warmzone to install radiant heat, you're never alone. And our experts are the best in the business.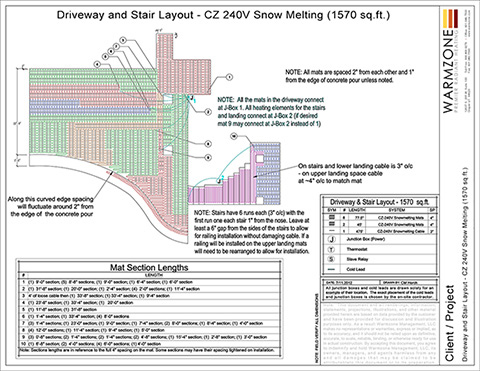 Warmzone has the breadth and depth of products and design services you'll need to complete your next project quickly, efficiently and within budget, without compromising quality. And you won't have to go it alone. Warmzone stays with you throughout the installation process to make sure the system is installed correctly and performing as advertised. Your dedicated account manager will follow your project from start to finish to your complete satisfaction.
In addition to personal installation support, you also have access to a library of installation resources available at warmzone.com. Warmzone maintains a vast collection of documentation, photos and illustrations that can assist you during your installation or selection process.
Deep industry knowledge and design experience informs every radiant heat design Warmzone renders for their customers. Over the years, their design team has developed relationships with experts in cutting edge radiant heat technology, along with plenty of insights they enthusiastically pass on to installers and contractors selecting and installing radiant heat for their customers.
Warmzone also offers product and installation training. including certifications provided upon completion of training. If you're in the area, you can also take advantage of in house training with Warmzone professionals.
Whether you're new to radiant heat technology, or have a specific project you need help with, give Warmzone a call at 888.488.9276. The call is free, the quote is free, and the advice, invaluable!