Warmzone Continues to Lead the way with Proven Radiant Heat Solutions and Complete System Design Services
Draper, Utah (PR WEB) – September 28, 2012 – Warmzone, a leading provider of radiant heat solutions, has announced that it will be the exclusive distributor of STEP Warmfloor's advanced roof deicing systems. As one of the largest radiant heat solutions provider, Warmzone offers a vast selection of radiant heat products and services. The STEP Warmfloor™ system complements Warmzone's existing product line and is touted as one of today's most innovative radiant heating technologies.
"We're excited to be the exclusive distributor of these efficient systems," stated Brandon Weaver, VP Systems Design and Engineering at Warmzone. "The STEP roof deicing systems are proven solutions that help to protect structures and enhance safety by eliminating ice dams and heavy ice buildup."
As the manufacturer of one of the most advanced, energy efficient roof heating systems on the market, STEP Warmfloor™ was very selective in determining the ideal distributor for its roof heating product. While Warmzone had already established a track record of successfully selling the system, this was only one aspect involved in the decision making process. Warmzone's customer service, system design and installation support is second to none, and was a principle factor influencing the outcome of STEP Warmfloor's choice to appoint Warmzone as the exclusive distributor.
STEP Warmfloor™ issued the following statement:
Although the STEP roof deicing systems work great, special skills and experience are required to give roofers the confidence necessary to install our system. Warmzone has this knowledge and experience, and have been selling our deicing systems with great success for some time now. Their positive results have led us to appoint them as our distribution agent in the United States for all roof deicing applications, and from this point on, all roof deicing orders will be designed by Warmzone. We feel this arrangement will benefit all parties involved.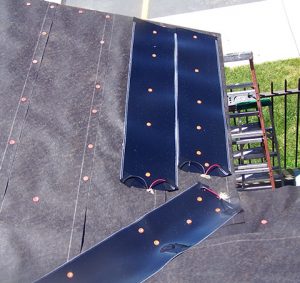 The STEP deicing system utilizes a unique polymer blend that heats when electricity passes through it. This thin, flexible heating element has the ability to self-regulate its electrical consumption, making it more energy efficient than most other systems. Solar and wind power can also be directly integrated to these heating systems due to its ability to accept AC or DC current. These advanced roof heating products have also been designed to exceed typical low-voltage standards and are now compliant to SELV (safety extra-low voltage) which is 30 volts or less under all load conditions.
RoofHeat STEP deicing systems are extremely versatile and can be applied beneath all roofing materials, including metal. RoofHeat is an effective and discreet heating system that safely melts ice and snow from eaves to prevent structural damage or safety hazards from falling ice.
For a free quote, distributorship opportunities or more information on these roof heating systems or other snow melting and floor heating solutions, contact a Warmzone radiant heating expert at 888.488.9276 or visit www.warmzone.com.
# # #
---
About WARMZONE – Premier Radiant Heating
Warmzone's mission is to match customer's needs with the finest radiant heating systems available. As an intermediary between project requirements and a variety of system choices, Warmzone offers non-biased, individualized solutions that factor the installation, durability, performance and operational investment as the key criteria of their customers. With a staff of some of the most experienced professionals in the industry Warmzone routinely provides premier radiant heat solutions in both the United States and Canada.
Toll Free: 888.488.9276
Phone: 801.948.7500
Fax: 801.948.7599
Visit us online at Warmzone.com.