A Guide to Finding the Best Radiant Heat System for Your Home or Business
As growing numbers of consumers search for clean, renewable-energy heating solutions, more home and business owners are turning to radiant heat. Being the most efficient heating technology available, the benefits of installing a radiant heat system are tough to deny. Not only is radiant floor heating growing in popularity, but energy-efficient driveway heating systems are also becoming more popular. The efficiency and reliability of radiant heat have made it a logical choice for new construction, as well as remodeling applications.
Certainly, radiant heat has earned its rise to the top of home heating and snow melting options. Given the public's emphasis on clean, renewable heating sources, radiant heat is becoming commonplace in new construction projects. Naturally, the increasing demand for interior and exterior radiant heat systems has resulted in a proliferation of radiant heat products and system providers. But what products are best? What should consumers be looking for? How does one differentiate one floor heating system from another?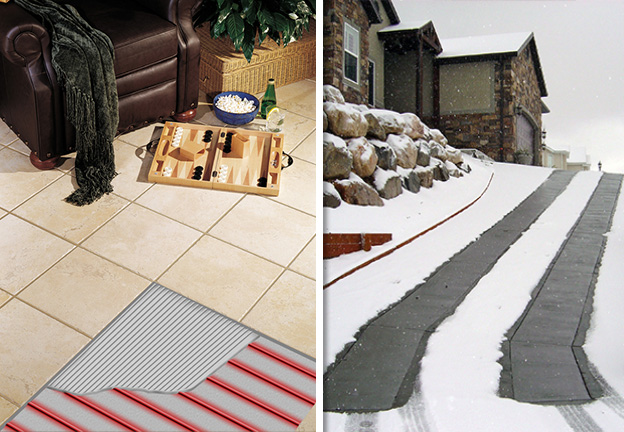 Whether you're looking to install a heated driveway, a radiant floor heating system, or a roof de-icing system, be sure to work with an established provider. You'll want to deal with people who have a lot of experience designing and providing radiant heat systems. You're making a significant investment, so you'll want to deal with professionals who have been around the block a few times. And you'll want to have a provider who also provides complete system design and installation support. But why are there so many different types of heated floors?
Because there is a wide variety of flooring options for homeowners, it only follows that there are several different types of floor heating systems. The key is to match your floor heating system with your flooring. Some floor heating systems are designed to heat tile floors, while others are better suited for warming hardwood or floating floors. The type of subfloor you have as well as the insulation (if any) can also impact the performance of your radiant floor heating system. Speak with a Warmzone floor heating expert to learn more about your options.
As a leading provider of radiant heat solutions, Warmzone offers a wide range of proven floor heating systems. One of the most popular, and versatile, is the ComfortTile floor heating cable and mats. ComfortTile features thin heat cable that is available off the spool as well as pre-spaced in mats, and is one of the most popular floor heating systems on the market. The ComfortTile system is typically the best choice for heating tile, stone and luxury vinyl tile floors. The Prodeso membrane system can also be used in conjunction with the ComfortTile cable. This ensures ideal cable spacing and offers protection from shifting and cracking, and provides waterproofing for the substrate in the case of overlaying on cracked or imperfectly cured floors with a risk of vapor stress.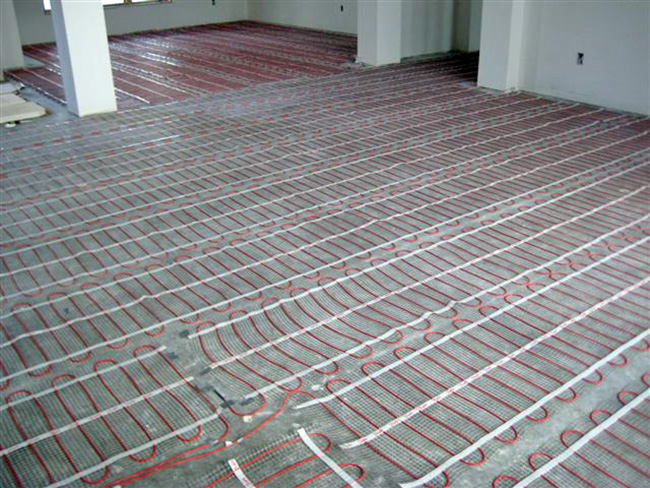 FilmHeat floor heating systems are designed for easy installation under laminate and floating floors. The FilmHeat heating element features a thin, flexible panel that is only 0.16-inch thick. Installation requires no floor buildup. There is no need for mortar or self-leveling compounds. The heating element is laid out over the underlayment and secured, and then the electrical connections are made and the floating floor is installed directly over the panels. These thin "film" heating elements can also be used to heat existing floors. The RetroHeat floor heating panels are stapled up between the floor joists and then batt insulation is placed over the element, directing all the heat upward to heat the floor. This is a popular choice for homeowners looking to add luxurious radiant heat to their existing floors.
In-Slab heat cable features a durable heating cable that is installed directly in concrete slabs. This floor heating system is ideal for taking the chill out of basements. It is also one of the most effective and efficient floor heating systems available.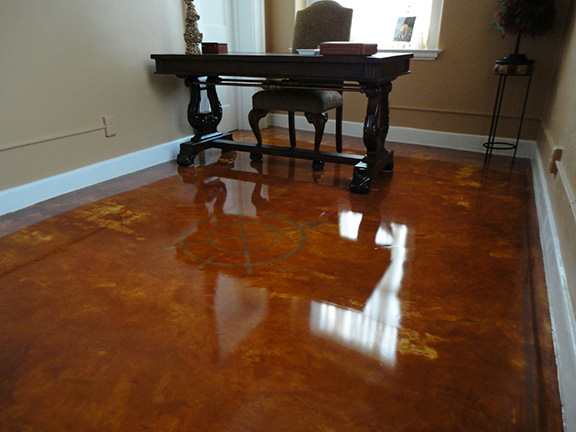 Another excellent option for heating laminate, carpet, engineered wood and floating floors is the FoilHeat system. This system features thin heat cable that is sandwiched between two layers of reinforced aluminum, which reflects and optimizes the heat. Warmzone also offers the low-voltage FloorHeat STEP system. This popular radiant heating solution utilizes thin, self-regulating polymer heating panels that make it ideal for heating hardwood floors. The installation requires virtually no floor buildup, and in addition to heating hardwood, the versatile system can be used to heat other floor types, including carpet, laminates, and tile. The semi-conductive polyethylene heating element is available in rolls 9 and 12-inches wide.
Warmzone carries several other trusted floor heating solutions, including hydronic floor heating systems. With each system, Warmzone includes free installation training, technical support, and professional system design. When you work with Warmzone, you'll be working with experienced professionals who stand with you throughout the installation process. Warmzone also offers several payment methods, including financing options that range from no interest, reduced interest, and deferred interest programs. The payment and financing options are designed to give customers a variety of choices that allow them to purchase the radiant heat system of their dreams now.
Call us to discuss your project and learn more about the many options that are available. We pride ourselves in offering the best customer service in the business, and we're looking forward to working with you. Call 888.488.9276 today.