Warmzone Radiant Floor Heating Systems Provide Luxurious Warmth
In today's economy people are thinking less about buying their "dream home" than they are about converting their existing house into their "dream home". Homeowners are updating their kitchens, renovating their bathrooms, replacing old linoleum floors with lavish hardwood or elegant tile and transforming their once modest dwelling into the home of their dreams.
One of the most common – and luxurious – yet, practical upgrades is the addition of radiant heated floors. In this unprecedented era of energy awareness, radiant floor heating systems have proven to be extremely efficient; and therefore, increasingly popular. But it's not just the efficiency of these systems that have homeowners abuzz. Heated floors provide luxurious, comfortable warmth that truly needs to be experienced to be appreciated.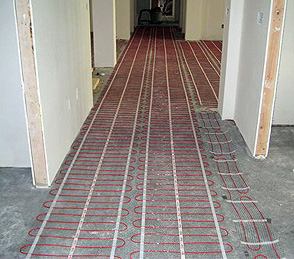 Many homeowners have been pleasantly surprised to discover that they can install radiant floor heat without tearing out the existing floor. Two popular floor heating systems (RetroHeat film heating panels and low-voltage FloorHeat) can be installed by accessing the floor joists from below. Both of these systems rank among the best when it comes to performance and ease of installation.
Adding radiant floor heat is also a smart investment for those who are remodeling or adding tile, hardwood or new laminate floors. Warmzone ComfortTile is an exceptional floor heating system that is highly recommended for heating tile floors. The heating cable is available on spools or pre-spaced in mats. ComfortTile mats feature heat cable that is attached to an adhesive-backed fiberglass mesh and can be rolled out like a sleeping bag and secured to the floor, making the cable installation quick and easy. The mats are compatible with all standard sub-flooring materials and have a low 3/16-inch (3 mm) profile, making this an excellent system for renovations.
The ComfortTile system features a shielded dual-conductor cable with single-point connection. This means that rather than having to run the cable across the floor and then return back to the starting point, the single lead is simply run to the thermostat and connected. The finish floor is then installed directly over the system. (Most of the cable and floor installation labor can be performed by the homeowner; however, the wiring of the system should be completed by a qualified electrician.)
ComfortTile heat cable on the spool allows more flexibility in terms of heating odd, custom-shaped rooms. The cable is routed across the floor and attached to the subfloor with the use of thin, malleable steel strapping (supplied with the system). The straps have tabs that fold down over the cable to ensure accurate spacing of the heating element.
For heating hardwood or laminate floors, FloorHeat STEP and FilmHeat floor heating systems are both excellent choices. FloorHeat is a low-voltage system that features a unique, thin, flexible polymer heating element while the FilmHeat system consists of a lightweight, near paper-thin heating element (0.16-inch thick), which has quickly become a favorite among homeowners and installers. The easy-to-install panels are ideal for heating floating floors, require no floor build up and can be cut on site. The heating panels provide a remarkably efficient floor heating system that significantly reduces energy consumption.
The FilmHeat system is also easy to install. The panels are placed on the subfloor and require no mortar or adhesives, making the system quick, easy, and affordable to install.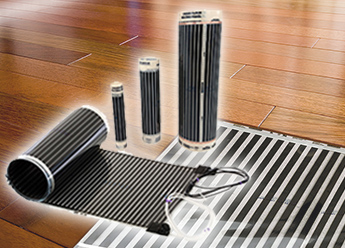 For new construction applications, homeowners also have the option of installing heat cable directly in the concrete slab of the floors. The rugged In-Slab heat cable is engineered to withstand the stress of heavy concrete pours and will efficiently heat the slab to warm your floors.
There are a variety of choices when it comes to heating floors, but beware of "bargain shopping". A radiant heating system is only as good as its installation, so it is vital to work with an experienced installer and a reputable system provider that offers complete system design services and installation support as well as quality products.
Warmzone is an established, reputable radiant heat provider that combines competitive pricing and top product offerings with complete radiant heat design and engineering services. Unlike most other providers in the industry, Warmzone has an expert staff on hand to offer personal installation support. It's no secret why Warmzone has earned its reputation as one of the most trusted providers of radiant heat solutions. For more information, call a radiant heat expert today at 888.488.9276.