Realize the Potential of Radiant Heating Technology
We've all heard the term to "unleash the power" of something. Athletes use it, business men use it, lovers of power tools use it, and now you too can throw it into your everyday vernacular when it comes to unleashing the power of radiant heat. Radiant heat can do so much for you personally and yet you may not yet realize the true potential magnificence of radiant heating technology.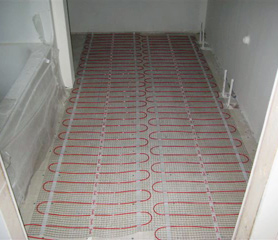 For example, did you know that the principles of radiant heat may now warm your entire home for a fraction of the energy costs your regular furnace can? Radiant floor heat is sweeping the home building world and for good reason. Radiant floor heating systems provide steady and even warmth throughout a room. The heat rises, as heat is designed to naturally do and it permeates all it comes into contact with. Radiant heated floors heat the entire room from the ground all the way to the ceiling. You'll find your furniture casting a more warming glow, your flooring oozes warmth, and your family internalizes the warming glow and smiles a whole lot more.
Radiant heat can also be applied outdoors. Why heat the outdoors you ask? Well, that is a great question and if you live where there is significant snow fall ask yourself what you would give to never shovel another back-breaking pound of snow off your driveway. Chances are you would be willing to at least query the principles of a heated driveway. You'll probably be talked into a snow melting system in a matter of minutes. The same theory applies to your roof, where snow and ice and quickly accumulate and cause damage. Radiant roof heating cables are yet another reason radiant heat is making a mark on consumer's pocket books. Notice I said making a mark, not breaking the bank. If you investigate radiant heating technology in any of the above mentioned forms you will be pleasantly surprised that not only are they affordable but they can enhance your quality of life