Radiant Floor Heat – Give Your Bathroom Floor the "Spa" Treatment
Want the spa treatment without ever leaving home? It's the perfect time to take the chill out of your bathroom floor with ComfortTile radiant floor heating systems. Easily installed directly under tile, natural stone other surfaces, ComfortTile radiant heat provides comfortable, even floor temperatures, in your bathroom, kitchen, or entryway. Just about anywhere there's a tiled surface is a great place for the comfort of ComfortTile heated floor mats or cable. And with a low 3/16-inch (3 mm) profile, ComfortTile is a non-evasive project ideal for bathroom renovations.
So how do ComfortTile floor heating systems work? ComfortTile heated floor mats and cable are a form of electric radiant heat. The mats are essentially pre-spaced heat cable woven into an adhesive-backed fiberglass mesh that can be rolled out and installed under the subfloor of any tiled surface. They are connected to an electric power source and, like forced air systems, are controlled by a thermostat. Once activated, ComfortTile heated floors radiate heat from the floor and up through objects in a given room to deliver warm, even temperatures quickly and efficiently.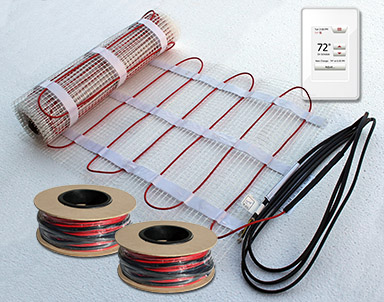 This efficiency isn't limited to the time it takes to activate an electric radiant heat system. By installing electric radiant heated floors, you can watch a small investment grow substantially. Radiant heat delivers higher levels of comfort at lower temperatures than conventional forced air systems, without a reliance on natural gas. There are no vents involved, so air pollutants, as well as the costs of duct cleaning and filter changing associated with forced air systems are virtually eliminated.
The good news, of course, is that while their appeal is high, the initial cost of ComfortTile heated floor mat installation is relatively low, so they're a great way to build equity in your home. Unlike forced air heat, radiant heat installation isn't an "all-or-nothing" proposition for homeowners either. You have the freedom to install ComfortTile floor mats in one room, or several. The mats are pre-terminated for use with 120 and 240 volts, and are available in various lengths of 24-inch widths to accommodate any layout, making them a flexible, easy-to-install proposition for do-it-yourselfers everywhere.
Warmzone ComfortTile electronic thermostats are specifically designed to control electric radiant floor heating systems for maximum comfort while minimizing power consumption. With Warmzone ComfortTile radiant heated floors, you can heat one room, or heat them all at the same time, if you wish. The system can be coordinated with your habits, so you get heat where you are, when you need it, without being subjected to drafts, dramatic fluctuations in temperature, and large heating bills.
It's never too late to benefit from the warmth and luxury of a ComfortTile radiant heated floor. Call Warmzone today at 888.488.9276 to find out how Warmzone can partner with you to reach your home improvement objectives.
Warming Your Hardwood Floors
Add Warmth and Luxury to your Wood Floors with FloorHeat
Considering a wall-to-wall carpet to wood floor conversion in your home? When it comes time to choose an electric radiant heat product, don't forget to include Warmzone's FloorHeat in your remodeling plans. This state-of-the-art radiant heat technology features an extremely low-profile heating element designed to distribute heat safely, evenly and efficiently. Because of its efficiency, affordability and ease of installation, homeowners are increasingly turning to FloorHeat for use in a wide variety of electric radiant heat applications.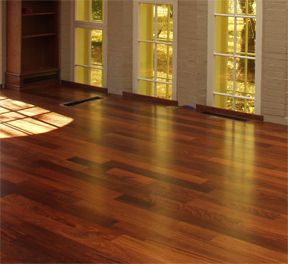 Just how does it work? FloorHeat is a self-regulating, semi-conductive polyethylene heating element. It coordinates with a thermostat and sensors placed below the subfloor of any hardwood or laminate surface. The best part, of course, is the heat itself—FloorHeat systems radiate heat up through the floor and objects in a room to evenly warm a room, maintaining comfort at temperatures a few degrees lower that those required by a conventional forced-air system. It's flexible enough to be installed under a variety of surfaces, in a variety of applications.
Available in 9- or 12-inch-wide rolls, FloorHeat is an ultra-thin, flexible heating element that's very easy to install. It is a very non-evasive application that does not require elaborate duct work or vent installation, making it a safe bet for the do-it-yourselfer. And as true for every Warmzone purchase, it comes with the wisdom and experience of a knowledgeable team of radiant heat experts. They'll be there every step of the way, from helping you choose the best system for your radiant heat needs and budget, to providing the support you'll need to successfully install your FloorHeat in your home.
So you've already installed wood floors throughout your home, and you're realizing that even with all of those nice wool throw rugs you've purchased, there's a considerable difference in comfort where wool meets the floor. No need to tear up and start over. You can easily retrofit your floor with FloorHeat radiant heat. RetroHeat panels can be cut to the desired length and safely stapled in between floor joists. After stapling, simply connecting the electrical system, and install batt insulation underneath the panels to direct heat up through the floor.
It's never too late to benefit from the warmth and luxury of a FloorHeat radiant heated floor. Call Warmzone today at 888.488.9276 to find out how Warmzone can partner with you to reach your home improvement objectives.