Radiant Heat Experts Offer Key Advise and Tips on What NOT to do When Installing Radiant Heat
Radiant heat systems work. It's a proven technology that produces impressive results. But like most technology related products, if a radiant heat system isn't installed correctly, the results can be equally disappointing. Installing a radiant heat system is not difficult, but it does need to be done properly. You can buy the best snow melting system components on the market, but unless they're installed correctly, you won't see the results you're expecting.
Recently named "Vendor of the Year" by the National Association of Custom Home Builders, Warmzone is a proven and trusted industry-leading provider of radiant heated driveways, heated floors and roof deicing systems. The company achieved its position by not only offering superior products, but by including the industry's most comprehensive customer support services, including free installation training, technical support, and system design. These unparalleled services distinguish Warmzone from the competition, and have set the gold standard for all radiant heat providers.
"Our products not only work, but they're among the industry's best," stated Bryan Morris, Director of National Sales for Warmzone. "But unless installers follow a few simple guidelines and install these systems correctly, the quality of the materials will make little difference."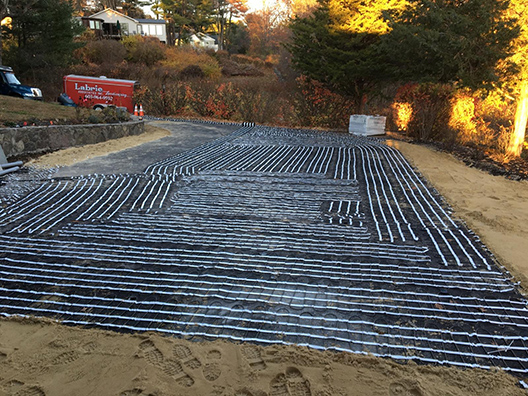 Some of the most common installation mistakes include:
One way to limit mistakes during an installation is not only to avoid the above errors, but to follow the handy checklist below, put together by Warmzone's experienced support staff:
PRE-INSTALLATION CHECKLIST
Before buying and installing a radiant heat system, review the checklist below.
Verify the correct voltage of your home or business (220/240 or 110/120).
Verify the available amperage. Don't guess or assume. You'll need to be certain, so we recommend having an electrician come to your location to measure the amperage.
Do your homework before hiring an electrician. Let's face it, not everyone is competent or ethical. Preferably, find one who has been in business for several years. Ask around and talk with those who have personal experience with electricians.
Keep in mind that the National Electric Code (NEC) requires that the system has 30mA GFEP (30mA trip protection).
Make sure the installer has completed Warmzone's free installation training course.
After installing your radiant heat system, fill out and mail your warranty card.
Perhaps the most overlooked tip – and one that can eliminate installation mistakes and unhappy customers – is to take advantage of the free training! Call 801.948.7577 or 888.488.9276 to sign up or learn more.
---
Part II: Stories from the Support Desk
Learn From Your Mistakes
Installation Support Experts Reveal Some Unfortunate Installer Mistakes
While most mistakes can be remedied, it is – of course – much easier to simply do the job right the first time. Here are some stories of past installation blunders that could have easily been avoided:
Installation #1: DON'T CUT THE CORD!
"Instead of starting the cable installation as close as possible to the electrical source, one installer began running the cable from the terminated end. After laying out the cable, he discovered that he had about 60 extra feet of heat cable – including the splice to the cold lead. He cut the excess cable and then ran the heat cable (from the terminated end) directly into the ETO2 control unit!
Needless to say, this presented a significant fire hazard, not to mention that the entire system was now inoperable. This disaster could have been easily prevented with a few minutes of consulting with one of our support staff, or by completing one of our installation training courses."
Installation #2: SPACED OUT
"Many installation problems are a result of improper spacing of the heat cable. And while mats come with the cable pre-spaced, the adjacent mats still must be spaced no less than 2 inches apart. The photo below shows how one installer laid out the cable and then applied the concrete pour. Instead of cutting the white binding tape to make turns with the mats, the cable was simply 'serpentined' all across the driveway; overlapping and bunching up and so on.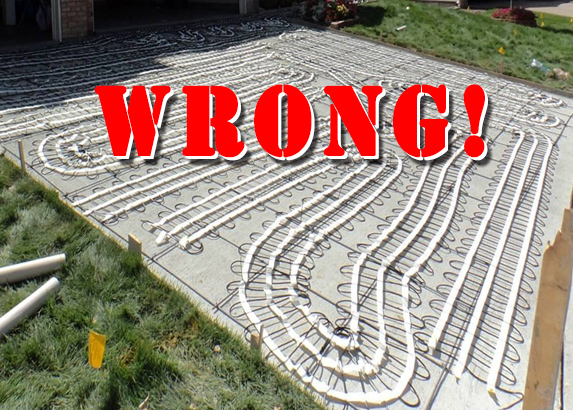 Again, this could have been avoided by making a simple call to Warmzone, viewing one of our installation videos online, or completing an installation training course. Instead, the concrete had to be dug up and the system replaced. Don't have time to take the 45-minute installation training course? Think again."
"Mistakes like these shouldn't happen," Morris emphasized. "Installers can complete a simple installation training course prior to installing the system, and they can always call a member of our support staff if they have any questions during the installation. If they do either of these things, then they're likely to save themselves a lot of stress."
Don't Forget:
Test the heat cable during the installation and record the readings in the fields provided on the warranty card. After installing your radiant heat system, complete and mail your warranty card.
Double check your cable spacing. (Minimum spacing of 2 inches and a maximum spacing of 4 inches.)
Perhaps the tip that can most effectively eliminate installation mistakes and unhappy customers is this: Take advantage of the free training!