Radiant Heated Driveways Make Snow Removal So Simple
Every day it snows millions of us curse its accumulation. We point our fist to the sky, shaking it with fury and scream WHY? ENOUGH ALREADY! MAKE IT STOP!!! It's not that we don't enjoy the beauty of snow or the extremely fun winter sports that it allows, it's just that, well, we're sick to death of shoveling, snow plowing, slipping, sliding, falling, and wishing it would just melt on its own. The oversimplification of snow removal is possible. First you get the snow, then the heated driveway , and then oh heavenly day, the melting. Once a radiant heated driveway is installed the hard work is over.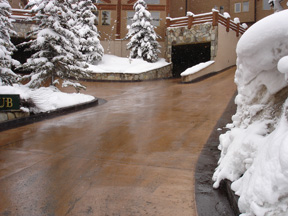 It does sound simple. Maybe a little too simple, but the beauty of it is that it's real and exists. A heated driveway takes the once burdensome snow and makes it pretty again. You can sit back and watch it fall without a single curse word uttered or fist shaking. A radiant heated driveway does all the work for you.
These fully automated systems activate when temperatures reach a certain set point and precipitation is detected. There's no labor involved. The systems also feature manual override capability in case you want to turn on the heated driveway to melt a snow drift or if some ice somehow formed in the shade. All in all, these heated driveway systems couldn't be easier or more reliable