'Ride the Current' or 'Go With the Flow'?
If you've finally put down the shovel and decided to purchase a heated driveway system, will you be going hydronic or electric? If you're a newcomer to the concept of driveway heating, hydronic and electric are both popular, and extremely viable forms of driveway heat, and Warmzone has the expertise, and experience, to help determine which is best for you. What these systems share in common—four key components you should be familiar with before purchasing a heated driveway system:
The Heating Element (Embedded in the driveway)
Power Controller Unit (Powers the heating elements on and off)
Power Supply (Circuit breaker panel)
Of the components mentioned above, the heating element and the control source distinguish hydronic heated driveway systems from electric heated driveway systems.
Hydronic Heated Driveway Systems: Going with the Flow
The heating element for a hydronic snowmelt system, as you may have guessed, involves water. Specifically, hydronic heated driveways use what is known as closed-loop tubing to heat the surface of the driveway. The tubing is generally made of a flexible (and quite durable) polymer or synthetic rubber to circulate a mixture of hot water and propylene glycol (antifreeze). The fluid is warmed to temperatures between 140 to 180 degrees F to deliver enough heat for snow melting.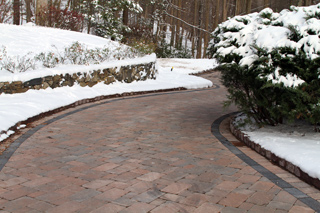 A water heater or a boiler is the chief source of heat for a hydronic driveway heating system, which can be powered by any energy source that satisfies the btu requirements, including natural gas, electricity, oil, wood, or even solar collectors. A circulating pump and supply and return manifolds, installed in an easily accessible location, transfer the water between the heat source and tubing.
Electric Heated Driveway Systems: Riding the Current
Unlike hydronic systems, electric heated driveway systems use hot wires to heat paved surfaces. These wires are surrounded by layers of insulation, copper grounding braid and a protective outer layer of PVC or polyolefin to form a flexible cable about ⅛ to ¼ inch in diameter. What's great about the heat cables is the flexibility of the application. Cable is available on spools as well as pre-spaced and woven into mats, and can be customized (cut) to suit virtually any type of layout, including odd-shaped driveways, common walkways and sidewalks, etc.
After being triggered by the snow sensor, the control unit then powers the heat cable to warm the driveway. To reduce the power demands (and operating costs), you can install cables in just the tire tracks of a driveway rather than the entire area. Warmzone provides complete system design services to ensure that you receive the best system layout and products for your project.
Radiant Heat for Custom Applications
Finding a Radiant Heating Solution as Unique as You Are
As temperatures plummet and heat bills skyrocket, consumers everywhere are turning to radiant heating systems. As the most affordable and customizable option out there, radiant heating is quickly making a name for itself as a titan in the heating market.
So radiant heating is the latest and greatest, but what exactly is so great about it and what can it do for you? One word: customization.
When it comes to radiant heating, the possibilities are endless. Warmzone can design a radiant heating system completely customized for your home and lifestyle, and it's as easy as one, two, three!
Choose
The first step of your radiant heating revolution is studying the available options and talking with a radiant heat expert to help determine the best radiant heat system for your needs.
Indoor Radiant Heating
Radiant heating can be installed under just about any surface, including tile, carpet, wood, etc. Put it in your bathroom, your kitchen, your living room—anywhere you need heat. Each room, or zone, can be controlled with its own thermostat. giving you great flexibility along with outstanding efficiency. Radiant floor heating is an affordable way to keep your house perfectly warm without racking up the electricity bill.
Outdoor Radiant Heating
You can also enjoy the benefits of radiant heating outdoors. Exterior snow melting systems keep your property safe by preventing pesky snow and ice buildup. There are several outdoor radiant heating products and options, including heated driveways, sidewalks, roof heating, pipe tracing, and portable heating mats; all of which will make your life a little easier in the harsh winter months.
Design
We realize that your radiant heating system isn't the same as the next customer's, so we'll work with you to come up with a radiant heating system tailor-made to your needs.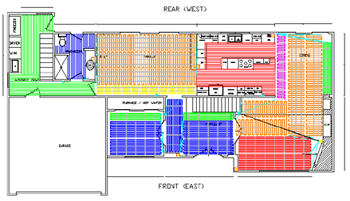 Once we assess your project's requirements, our team will design a custom radiant heat solution with an AutoCAD of your system, complete with all the technical specs you need so you know all the details prior to any installation taking place.
Enjoy
With radiant heating, your only job is to sit back, relax, and enjoy your custom radiant heating solution. Let your heated floors warm your home evenly and efficiently. Sit back and watch from the warmth of your living room as your radiant heated driveway does the shoveling for you. And sleep in peace knowing that your gutters and pipes are safe from nasty and potentially devastating snow and ice buildup.
Why settle for an out of the box heating solution? Let us help you customize a radiant heating system that meets your needs, fits your budget, and keeps you and your family warm and safe.