Combat Soggy-Sock Syndrome in Your Foyer this Winter
A ComfortTile radiant heated floor is a proven, energy-efficient way to stay one step ahead of winter. Most of us have battled soggy sock syndrome during the winter months (you know, the phenomenon that happens when you take your wet boots off at the door), but there's a sure way to overcome this inconvenient winter mainstay. With a ComfortTile floor heating system warming up your entryway, your feet are more likely to stay dry and warm after you un-boot. These systems consist of thermostat-controlled heating cables under the surface of the floor to provide safe, evenly distributed heat. Because heat radiates up from the floor, radiant floor heat is a highly efficient means for combating cold winter temperatures.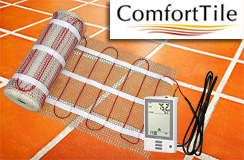 ComfortTile electric radiant floor heating systems consist of thin heating cables that can be easily installed under virtually all types of floor surfaces to provide comfortable, even floor heat. A fully-programmable thermostat communicates with the heat cables to quickly and efficiently deliver heat to each zone or room as you see fit. There's no wasted energy. Save money by heating only the
specific areas you need. Because there is no noisy blower and heating ducts or vents, ComfortTile radiant heated floors silently heats your home without stirring up dust and allergens. Radiant
heat is clean, quiet and used renewable energy.
ComfortTile floor heating mat and thermostat. ComfortTile is available in mats or on spools. The mats include a thin heating cable that's pre-spaced on an adhesive-backed fiberglass mesh for easy installation. They are pre-terminated for use with 120 and 240 volts, heat an area two feet wide, and are available in a variety of lengths. For greater flexibility heating odd shaped rooms and areas, ComfortTile heat cable is available off spools. ComfortTile features a rapid response time and is suitable for heating tile, linoleum, wood, laminates and even carpeted flooring.
Having been in an environment that relies on radiant floor heat for providing warmth, I've seen and felt its effectiveness first hand. My young boy's environmentally conscious school recently installed, radiant heated floors, and its effects are impressive. I'm particularly attuned to the performance of the heated floors because I work there in the evening. As fast as I can mop, these floors are drying directly behind me.
During winters, as snow accumulates, it's not uncommon to see a dozen or so snow ensembles such as hats, gloves, coats and snow pants laid out on the school's heated floor to dry. Despite the abundance of little wet feet, there's little time for melted snow puddles to accumulate in this environment.
Imagine harnessing this same heating power in your home! Using ComfortTile to heat foyers and entryways is a great way to combat the tracking of ice and snow into your home. Radiant heat not only provides a little extra assurance beyond the welcome mat by providing comfortable warmth, but enhances safety by helping to eliminate slick wet spots that are typical during winters.
Warmzone is a trusted, leading provider of radiant heated floors for commercial and residential applications. To find out more about Warmzone products, design services and customer support, contact Warmzone at 888.488.9276 or visit www.warmzone.com.
Self-Regulating Heat Cable
Self-reg Cable for Roof Deicing and Pipe Trace Solutions
Self-regulating gutter trace heat cable is extremely effective and energy efficient thanks to its unique construction. The cable is comprised of a rugged, durable outer jacket surrounding an irradiated conductive core that increases the heat output as outside temperatures fall, and decreases output as temperatures rise. This construction also makes RoofHeat radiant heat cable incredibly resilient in the toughest conditions. The superior outer jacket allows provides greater flexibility and can be mounted to heat roof edged as well as in gutters and downspouts to facilitate runoff.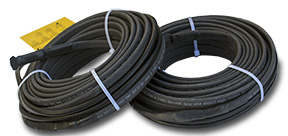 Warmzone roof deicing and gutter trace systems are fully automated and easy to customize. Warmzone roof heating experts will provide a comprehensive system design/layout as well as installation support and even free installation training if you choose. In addition to the self-regulating heat cable, Warmzone roof deicing systems include a snow/temperature sensor and thermostat or controller. Warmzone radiant heat professionals work closely with you to determine the best solution to meet your snow melting needs, power requirements and budget.
Heating your roof edges is a great way to protect your home from the water damage caused by ice dams. When warmer air escapes from your attic, it can melt the snow on your roof, causing it to run down towards the edges. However, the water refreezes when it reaches the eaves, and as this process is repeated over time, ice dams form, causing pools of water to backup behind the ice where
it can eventually damage your roofing and seep into your home, causing expensive water damage. Ice dams can also be responsible for causing structural decay and rot, or mold and mildew formation in the attic and on walls.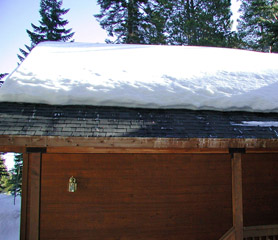 Heavy icicles can strain gutters and damage the support pins. No matter how you look at it, damage from roof ice and snow can be costly. A few well placed heat trace cables along your roof's edge and in gutters and downspouts can serve as an excellent investment in your home. Contact a roof heating expert and learn more about the many roof deicing options that are available.
Self-regulating heat cable is also the ideal solution for pipe tracing and pipe freeze protection. Warmzone carries a variety of self-regulating heat cable for industrial, commercial and residential
heat trace applications. Warmzone designers are happy to talk with you to discuss the solutions that can best serve your needs. There's no obligation, so call 888.488.9276 today.