Electric underfloor heating systems are particularly well-suited for heating small to medium sized rooms and areas. Electric radiant heating systems are energy efficient and cheaper and easier to install than water-based (hydronic) radiant heating systems. Radiant underfloor heating systems are controlled by a thermostat with an in-floor sensor, and the systems are ideal for heating tile floors, hardwood, laminates and more. Electric radiant floor heating systems are also maintenance-free and feature rapid response times.
One of the most proven and popular electric radiant floor heating systems is the ComfortTile heated floor. The thin ComfortTile floor heating cable has a ⅛-inch diameter, and when installing a heated tile floor, the cable can be installed in the thinset, so there is only a slight floor buildup.
In addition to being able to purchase the heat cable on spools, ComfortTile is also available in easy-to-install mats that can be quickly and conveniently rolled out during installation. The heat cable is pre-spaced and attached to a durable mesh with adhesive-backing. The heat cable on the spool is best for installing in large, custom shaped areas while the mats are typically used for heating standard shaped rooms and areas.
Warmzone also offers several other electric underfloor heating systems, including the HeatShield floor heating insulation panels, In-Slab radiant heat cable, low-voltage FloorHeat systems and RetroHeat electric under joist floor heating systems.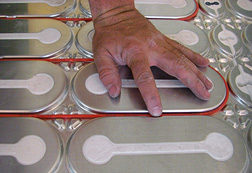 HeatShield underfloor heating insulation panels maximize radiant floor heating system efficiency. The systems are best suited for heating laminate and engineered wood floor applications, and are also commonly used for heating carpeted floors.
Featuring ½-inch thick polystyrene insulation panels covered with thin, specially profiled aluminum, HeatShield floor heating systems ensure excellent downward insulation while optimizing the upward heat distribution, thereby reducing energy consumption.
The underfloor heating system is also easy to install. Simply lay the insulation panels on the existing subfloor and clip them together, then press the heat cable into the grooves provided. (The reflective floor heating panels eliminate the need for heat cable to be embedded in a mud/cement base.) Next, place the finish floor on top.
In-Slab (SlabHeat) underfloor heating cable is excellent for a variety of concrete applications. Ruggedly designed for installation directly in cement slabs, the In-Slab radiant heat cable produces 10-15 watts per square foot and can efficiently radiate heat to warm any type of flooring, from ceramic tile to marble, hardwood, slate, and more.
FloorHeat radiant heating systems feature a unique, self-regulating polymer heating element. This low-voltage underfloor heating system is extremely thin and requires no floor buildup. Because of these attributes and that it can be easily secured to the subfloor with nails, adhesive or staples, FloorHeat is ideal for heating hardwood floors. The system utilizes a step-down transformer that converts the 220 line voltage to the low voltage of 60V (or less).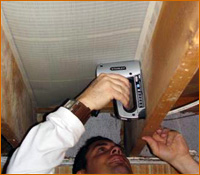 Existing floors can also be retrofitted with radiant heat, using the FloorHeat or RetroHeat under joist floor heating systems (providing you can access the floor joists under the floor you wish to heat). RetroHeat features a paper-thin heating element (available in 12, 16, and 24-inch widths) that can be cut on site and safely stapled between the floor joists. After stapling the floor heating panels between the floor joists, the electrical connections are made and common batt insulation is then installed to direct the heat up through the floor. The RetroHeat underfloor heating system is an outstanding value for retrofitting radiant heat under any existing floor covering, including tile, hardwood, and carpet.
While Warmzone offers one of the best selections of underfloor heating systems available, it is best to call and speak with a radiant heat expert to determine the ideal system for your needs (888.488.9276). In addition to offering the best radiant heating products and systems on the market, Warmzone also includes complete radiant heat system engineering and design services. This ensures that your radiant underfloor heating system will perform as well – or better – than expected. Warmzone's radiant heat design services include a detailed autoCAD of your system, so you'll know all the system installation requirements and power needs prior to laying down any heat cable. So if you are considering installing a radiant underfloor heating system, deal with the best, most trusted radiant heat professionals at Warmzone. Call to speak to a radiant heat expert today, at 888.488.9276.