Snow removal in Boston is serious business. During Boston's record setting winter of 2014-2015, when the city received 108.6 inches of snow, residents worked overtime to keep their driveways and sidewalks clear of the white stuff. Boston city personnel and snowplows were pushed to their limits during some of the more significant storms. And while Boston city can prepare their trucks and employees for Mother Nature's next onslaught, is there anything homeowners can do to get a leg up on the harsh New England winters?
The answer is "yes". Many home and business owners in the Boston area are turning to radiant heat. In addition to eliminating the need for manual snow removal, automated snow melting systems enhance safety for pedestrians entering and exiting businesses in the Boston area.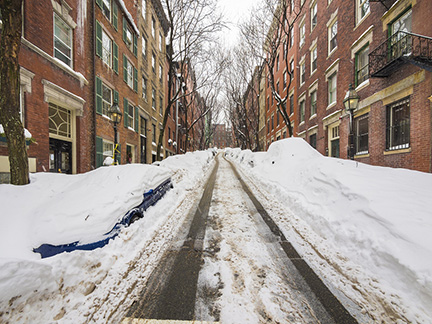 Warmzone snow melting systems are fully automated, so they operate only when needed. The system includes an advanced snow sensor that detects temperature and precipitation. When temperatures are below a set point – typically 39 degrees Fahrenheit – it signals the controller which sends power to the heat cable.
As an industry leader, Warmzone snow melting systems feature trusted heat cable that is available off the spool or pre-spaced in mats that can be rolled out for easy installation. The electric radiant heating mats are laid out and secured, and then the medium (concrete, pavers, or asphalt) is applied directly over the cable. (To view snow melting system installation tips, visit the Installing Snow Melting Systems web page.)
The proven ClearZone snow melting system is commonly installed in both commercial and residential applications. From large heated driveways and parking areas to custom sized walkways, ramps and loading docks, ClearZone electric snowmelt systems are versatile and can be easily customized.
Warmzone's fully automated system includes the embedded heat cable, an activation device (snow sensor), contactor panel, and marker plate (as required by the NEC). These electric systems are also maintenance free and relatively easy to install.
In addition to providing the highest quality radiant heating products, Warmzone also offers unmatched customer services. Each system is professionally designed, so you'll know the exact layout and materials, proper load calculations, breaker sizes, number of breakers, and system performance expectations before one foot of heat cable is installed.
Warmzone also includes free installation support services. Our expert staff is on hand during your installation if you need. Should your installer have any questions during the installation, he/she can speak with one of our installation experts to resolve any issues. Free installation training is also available. When it comes to customer service, you'll find that Warmzone is second to none.
Contact Warmzone today and learn more about the radiant heating options that are available. In addition to offering heated driveways and snow melting systems. Warmzone also offers premier roof deicing and floor heating systems. Call 888.488.9276 to learn more.