Roof Deicing Systems Solve the "Falling Ice" Problem
Residents in New York City enjoy a number of perks and conveniences of life in the big city, but the splendor of living among the towering buildings and concrete canyons also comes with its share of challenges. New Yorkers are survivors, and every day during their brisk walks along the streets they're constantly on guard as they maneuver through a sea of other hurried pedestrians, bicycles, taxis, delivery trucks and so on. The fast pace is all part of life in the Big Apple.
As if these daily obstacles and dangers weren't enough, there are other hidden dangers that descend upon the city during the snow-filled winter months. As New Yorkers navigate the icy sidewalks and slush-filled streets, a more significant safety threat looms high above, well out of sight and out of mind of most pedestrians.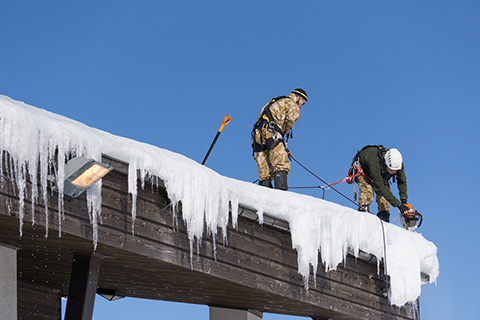 After heavy snow storms, when temperatures climb back up above freezing, roofs begin to warm and slabs of snow and ice can break away and tumble onto unsuspecting pedestrians below. While most building owners take precautions to avoid this from happening, every year in the Big Apple there are reports of pedestrians being struck by snow or ice that has fallen from roofs or other structures. Streets had to be closed around New York's new 1 World Trade Center recently when sheets of ice broke free from the 1,776-foot structure and slammed into the ground at 100-mph.
According to New York state laws, pedestrians who are injured from falling ice may seek compensation from building owners or those responsible for falling objects. The ruling of Davis v. Niagara Falls Tower Co. 171 N.Y. 336 (1901), states:
[A building owner] . . . must, at his peril, keep the ice or the snow that collects upon his roof within his own limits, and is responsible for all damages if the shape of his roof is such as to throw them upon his neighbor's land, in the same manner as he would be if he threw them there himself.'
So, the responsibilities of building owners are clear. State law imposes a specific duty upon New York City building owners to ensure that pedestrians are not injured from snow or ice accumulations that fall from their buildings; whereas they must take reasonable steps to prevent ice from falling to the street. These steps typically range from snow guards to automated roof deicing systems.
In addition to commercial buildings installing snow guards or roof heating systems, it's also beneficial for New York homeowners to protect their roofs and gutters with a radiant roof heating system. While they don't face the same level of potential liability as building owners in crowded cities, installing a gutter trace system and/or a roof heating system in valleys and along roof edges can ultimately save money in the long run. These affordable roof deicing systems can be customized to meet homeowners' specific snow melting needs as well as their budget. Heat trace cable can be installed in "trouble spots" on the roof or just in gutters and along the roof's edge to eliminate ice dams – the principle culprit responsible for costly roof and water damage.
Warmzone roof deicing and gutter trace systems offer one of the best roof heating solutions available for preventing hazardous ice dams and icicles from forming on roofs. In addition to Warmzone's large variety of industry leading roof deicing systems, Warmzone radiant heat experts work closely with customers to determine the best and most affordable option for the roof.
The most popular roof heating system features an advanced polymer heating element (RoofHeat STEP) that can be installed directly under roof shingles. This low-voltage system has proven to be a favorite roof heating solution among professional installers and homeowners in New York. Heat trace cable can also be installed to heat gutters and downspouts, or the systems can be combined to produce optimum results.
Warmzone professionals are experts when it comes to roof heating, and its customer service is second to none. In addition to providing complete system designs (AutoCAD), installers have access to free installation training as well as personal installation support. If installers encounter any issues or have any questions during the process, he/she can speak with one of the dedicated installation support staff to resolve the issue.
To learn more about Warmzone's roof heating options, call 888.488.9276. Many home and business owners in New York are already enjoying the benefits of a Warmzone roof deicing system. Call a Warmzone consultant to learn more – with no obligation or sales pressure. As an industry leader, Warmzone offers one of the most informative radiant heating websites available, so visit warmzone.com and learn more about radiant heating systems and why some systems (and services) are better than others when it comes to heating specific projects.