Time for a Radiant Snow Melting System
According to radiant heat experts, the most popular time to install a heated driveway is during the summer and fall. However, early spring may be the best time to purchase a radiant heat system because that is when there is less demand, which may translate to discounts or slightly lower prices for you.
If you are remodeling or building a new home in a cold climate region, plan for the winters by exploring the options of installing a radiant heated driveway. These electric snow melting systems are fully automated and virtually maintenance free, providing reliable, energy-efficient performance and eliminating the need for manual snow removal or the use of harmful snow melting chemicals.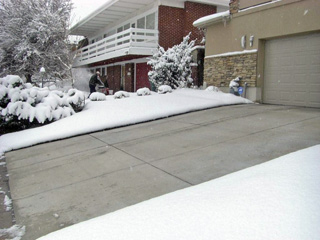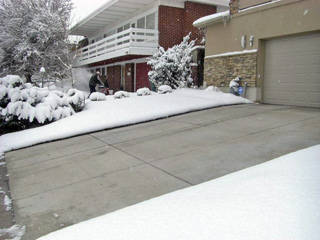 Installing a heated driveway during spring or summer – before cold weather hits – is ideal for several reasons. The optimum temperature for curing concrete is between 65 and 85 degree Fahrenheit. This is crucial in order for the concrete to cure correctly and maintain its maximum compression strength rating, ensuring the cement's durability and enhancing its life span. So, if you are considering installing an automated heated driveway system, don't wait until winter hits to to begin construction. And believe it or not, installing a heated driveway is surprisingly easy, and one sure way to take the chill out of the arrival of winter.
With energy costs continuing to soar, consumers are searching for the most efficient ways to take the "sting" out of their heating bills. Consequently, homeowners and commercial property owners have not only discovered the appeal of energy efficient, indoor electric radiant floor heating options, but also of outdoor snowmelt systems, such as heated driveways, walkways, staircases and more.
Given the benefits of maintenance-free operation, reliable performance and affordability, it's no wonder that heated driveways are becoming more commonplace among residential and commercial properties. Heated driveways are fully automated and provide labor-free snow removal without the need for salt and other snowmelt chemicals.
The cost to maintain an electric heated driveway is typically much less than hiring someone to manually remove the snow. Your concrete lasts longer because salt or harsh chemicals (or snow plows) are not being used to melt or remove ice and snow. Electric radiant snow melting systems are also simple to install, extremely durable, and require no maintenance.
Heated driveways not only enhance safety and increase the value of your property, but offer convenience and peace of mind. Driving your car out of the driveway doesn't have to be an adventure every morning, and you shouldn't have to put on your snow shoes to retrieve the morning newspaper. Check out the driveway heating and snowmelt options for your home today.
Portable Snow Melting Solutions
WarmTrax Heated Traction Mats and Stair Treads
Are you looking for a way to keep your porch, steps or sidewalks clear of snow and ice this winter but don't have the resources to install an embedded snow melting system? Then look no further than Warmzone's portable snow melting solutions. WarmTrax portable heated traction mats and stair tread snowmelt products are a great alternative to embedded snow removal systems for heating outdoor walkways, ramps and stairs.etc. The mats are extremely durable, and the stair treads are available in aluminum or rubber, so they can handle heavily trafficked areas. These convenient snow melting solutions are a popular means of enhancing safety, and the systems are very easy to use.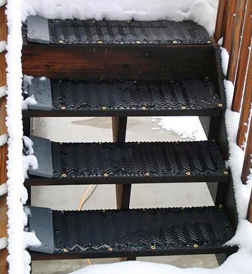 The heated traction mat features an electrically operated heating element sandwiched between two protective surfaces of non-slip rubber, making them as durable as automobile tires. WarmTrax mats are a popular solution for enhancing safety during the winter by providing a reliable solution for slip prevention. Potentially dangerous areas for pedestrians are kept safe and free from slick ice. The mats are designed with a continuous chevron pattern to provide extra traction.
WarmTrax mats and stair treads are a popular alternative to embedded systems because of their ease of use and unmatched performance. If you want to heat outdoor steps, both the rubber and aluminum stair treads can be easily daisy-chained together to cover as many steps as you need. These reliable snow melting mats eliminate the need for harsh snowmelt chemicals and snow shoveling.
When cold weather hits, simply unroll the WarmTrax heating mat across the area that you want to keep clear of snow or ice and plug the cord into a standard 120V or 240V outlet. The heating mats and stair treads also feature their own equipment leakage circuit interrupter (ELCI). When it comes to keeping your walks clear and enhancing safety during the cold winter months, nothing could be easier than the WarmTrax portable snow and ice melting mats.
The WarmTrax portable snow melting traction mat is a popular solution for melting snow on disability ramps, steps, sidewalks, and porches, etc. The traction mats are also handy even in times when there is no snow. The durable mats increase safety during wet, rainy weather and also serve to minimize dirt and mud from being tracked inside your home or business.
WarmTrax products are made of the highest quality materials so they can withstand harsh weather and repeated use. The convenient portable snow melting mats are very easy to use and can be plugged in directly into any standard 120V or 240V outlet using its own equipment leakage circuit interrupter (ELCI).