High-Tech Snow Switches for Heated Driveways and Roof Deicing Systems
Are you contemplating radiant heat for your next home improvement project? Equipped with high-tech snow switches, radiant heated driveways and gutter systems are fully automated, making them efficient and effortless when it comes to snow removal.
The automated snow switch detects temperature and moisture conditions to initiate ice- and snow melting systems at the first signs of inclement weather. Depending upon what you're heating, there are two general types of sensors.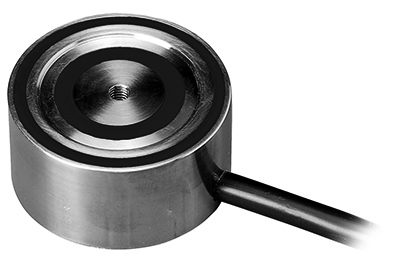 An in-pavement (ground) sensor mounts in the concrete, asphalt, or pavers of your driveway or walkways, making it very indicative and accurate of the driveway conditions and includes many programmable features including:
Electronic on/off control up to 11 KW
2 zone control with zones that can be individually controlled
Economical control
Temperature and moisture detection
Control of electrical or hydronic (water-based) ice and snow melting systems
The aerial mounted snow sensor activates your snow melting system only when needed. These sensors are typically mounted on the roof, and automatically triggers your heated driveway or gutter snowmelt system when it detects precipitation and temperatures are below 39°F. Smart system compatible, the sensor has several other notable features, including adjustable temperature trigger point, adjustable delay off cycle, and upgradeable remote activation.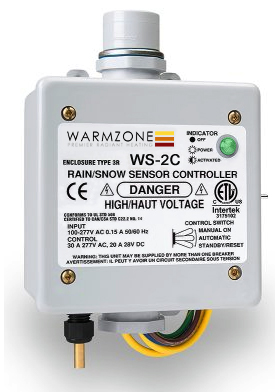 That's great, you say, but I have a snow removal service already, so why pay for a fancy system? Snow fall is unpredictable. Sometimes you wake up to the stuff, and sometimes it accumulates throughout the day. Snow removal services are certainly very handy, but they can't compete with the reliability and efficiency of an automated radiant heated driveway system. With an automated radiant heated driveway or gutter system, it's like having your very own snow melting service on call, 24/7. There's no waiting involved, and no slippery patches of ice that got overlooked. Automated snowmelt systems only run when it's snowing, eliminating residual or standby operation costs involved with snow removal services. And most importantly, they offer the peace of mind that comes with knowing your driveway and walkways are completely clear of ice and snow.
If you're not sure how an automated snow melting switch fits into your radiant heat snow melting project, take heart. Warmzone has the experience and expertise you'll need to meet your project requirements, and can configure an automated snow melting system with your needs and budget in mind. To discover more about radiant heat snow melting systems, contact 888.488.9276 today.
Roof Heating Solutions
Melt Snow and Ice With a Radiant Roof Heating System
Radiant heated roof and gutter heating systems can dramatically enhance the life span of your roof and protect it from damage caused by heavy snow and ice accumulation. Older buildings are a visible testament to the damaging effects of roof ice and snow that can destroy fronts, roofs, drainpipes, and gutters. Roofs that have substandard support structures, and such shortcomings can enable water to enter the building. As technology improves insulation value, there is less heat gain from inside of the building, causing an increased hazard of ice damage and damming on the roof. Once winter frost sets in, damage is often inevitable. Flat roofs on industrial buildings often give in to excessive weight loads generated by accumulations of ice and snow. This can be prevented by installing a quality heated roof and gutter deicing system, eliminating potential damage from snow and ice buildup.
Working with Warmzone on your roof heating system installation allows you to shop a number systems, and find the solution that is right for your home and your budget. Warmzone's low-voltage roof heating system is another excellent solution for melting snow and ice from roof eaves, valleys, and entire roofs. The RoofHeat STEP deicing system features an extremely thin, self-regulating, semi-conductive polyethylene heating element. Embedded between two layers of vinyl, the panel is protected against UV rays, alkaline or other potential physical damages for durability.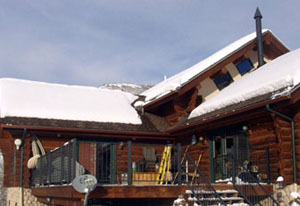 What's great about Roofheat STEP is its versatility. It can be installed under new or existing asphalt, shake, or tile shingles, and is ideal for new construction as well as remodeling projects. Available in rolls 9 or 12-inches wide, the lightweight heating panel can be cut to size, and nailed or stapled through the existing roof, making installation quicker and easier than other traditional roof heating systems.
You can never predict the weather, but with a Warmzone roof heating system, you can often predict the outcome. Prepare now and say goodbye to pesky snow buildup and ice damming for good. To find out more about the Warmzone roof heating system, request a FREE quote or contact us at 888.488.9276.