Running out of snow removal options already? It's never too late to put down the shovel and install a radiant heated driveway. If you're tired of waiting on your snow removal service when the white stuff hits hard, there's still time to make one call and install a radiant heated driveway. Warmzone can get your product fast, and you can use Powerblanket concrete curing mats in colder temperatures to cure the concrete and thaw the ground to acceptable levels, making the install easy and quick. Sure it's going to get cold soon, but you can still install radiant heat before winter hits (whether we're talking months, weeks or even days).
No need to grapple over which radiant heated driveway provider to go with. With Warmzone, all you need to know is your budget and your expectations. Not only does Warmzone have the highest quality heated driveway and radiant snow melting systems available—they have the experts and the expertise to quickly configure a heated driveway that meets or even exceeds your requirements for snow melting during the cold winter months.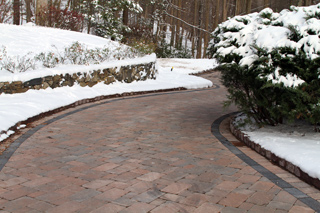 Generally an installation can happen within the context of a day, or even a few hours, whether you're retrofitting existing pavement or coordinating with a new concrete pour. And that's about what you can expect once your system is installed—lightening quick response times and efficient snow removal. That's because the technology behind a ClearZone heated driveway is sophisticated enough to sense changes in temperature and humidity indicating snow, and respond before any accumulation occurs on your driveway.
ClearZone snow melting systems truly set the bar in the industry, and are versatile (and incredibly efficient) enough to quickly melt snow and ice in both commercial and residential applications, from large heated driveways and parking areas to custom-sized walkways, ramps and loading docks. Fully-automated, energy-efficient and maintenance free, ClearZone snow melting systems are easy to install and fully customizable to meet your needs.
If you're a procrastinator like I am, you'll be relieved to know that ClearZone snow melting systems can be installed in most mediums, including concrete, asphalt and under pavers, in just about any location and nearly at anytime of the year. The heat generated by these outdoor heating blankets gets through frozen ground quickly, and can thaw up to 18 inches of ground overnight, perfect for preparing select areas for a heated driveway installation, above or below ground.
So what are you waiting for? If you want a snow melting system that will outperform your current snow removal service (or your own shoveling abilities), Warmzone can have a ClearZone radiant snow melting system up and running long before you run out of excuses. Simply call 888.488.9276 for a free consultation today!
Warmzone Appointed as the Exclusive U.S. Distributor of STEP Warmfloor Roof Deicing Systems
Warmzone Continues to Lead the way with Proven Radiant Heat Solutions and Complete System Design Services
Draper, Utah (PR WEB) – September 28, 2012 – Warmzone, a leading provider of radiant heat solutions, has announced that it will be the exclusive distributor of STEP® Warmfloor's advanced roof deicing systems. As one of the largest radiant heat solutions provider, Warmzone offers a vast selection of radiant heat products and services. The STEP Warmfloor™ system complements Warmzone's existing product line and is touted as one of today's most innovative radiant heating technologies.
"We're excited to be the exclusive distributor of these efficient systems," stated Brandon Weaver, VP Systems Design and Engineering at Warmzone. "The STEP roof deicing systems are proven solutions that help to protect structures and enhance safety by eliminating ice dams and heavy ice buildup."
As the manufacturer of one of the most advanced, energy efficient roof heating systems on the market, STEP Warmfloor™ was very selective in determining the ideal distributor for its roof heating product. While Warmzone had already established a track record of successfully selling the system, this was only one aspect involved in the decision making process. Warmzone's customer service, system design, and installation support is second to none, and was a principle factor influencing the outcome of STEP Warmfloor's choice to appoint Warmzone as the exclusive distributor.
STEP Warmfloor™ issued the following statement:
Although the STEP roof deicing systems work great, special skills and experience are required to give roofers the confidence necessary to install our system. Warmzone has this knowledge and experience (as well as free installation training), and have been selling our deicing systems with great success for some time now. Their positive results have led us to appoint them as our distribution agent in the United States for all roof deicing applications, and from this point on, all roof deicing orders will be designed by Warmzone. We feel this arrangement will benefit all parties involved.
The STEP deicing system utilizes a unique polymer blend that heats when electricity passes through it. This thin, flexible heating element has the ability to self-regulate its electrical consumption, making it more energy efficient than most other systems. Solar and wind power can also be directly integrated to these heating systems due to its ability to accept AC or DC current. These advanced roof heating products have also been designed to exceed typical low-voltage standards and are now compliant to SELV (safety extra-low voltage) which is 30 volts or less under all load conditions.
RoofHeat STEP deicing systems are extremely versatile and can be applied beneath all roofing materials, including metal. RoofHeat is an effective and discreet heating system that safely melts ice and snow from eaves to prevent structural damage or safety hazards from falling ice.
For a free radiant heat quote, distributorship opportunities or more information on these roof heating systems or other snow melting and floor heating solutions, contact a Warmzone radiant heating expert at 888.488.9276 or visit www.warmzone.com.