Radiant Floor Heating
Nowadays consumers are not only concerned with saving money, but about doing their part to minimize their carbon footprint and help protect the environment. Perhaps it is these factors that have contributed to the steady growth of radiant heat – in addition to the luxurious warmth that it offers.
Radiant heat systems provide the most efficient way to heat homes and businesses. Unlike forced air systems, radiant heated floors have virtually no heat loss, so there's no wasted energy. And the systems operate on renewable energy. (Hydronic floor heating systems are also available. These systems utilize a boiler to heat the specially treated water that is pumped through a series of PEX tubing.)
Traditional home heating systems use a series of vents and a blower. While standing over a vent in the winter time can be a nice way to warm up, unfortunately that comfort doesn't spread evenly across the whole room or last very long. Most of the room can warm quickly, but it cools equally fast. The heated air blown from the vents rises to the ceiling and dissipates, abandoning the floors and lower levels of the home. This is known as stratification – a situation where the top levels of a room are warm and the lower levels are colder, oftentimes by as much as 10 degrees. The cooler temperatures at "knee level" are especially uncomfortable for children who spend a lot of time playing on the floor.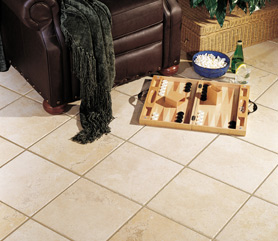 Most forced air heating systems use natural gas to produce a flame that heats air. The warm air is then distributed throughout the house through a series of conduits. Some ducts may run through cold basements, causing heat loss in the air being blown from the furnace. In addition to the air cooling slightly as it travels through the house, warm air can also escape wherever there are small openings in the ducts and closed vents. When combined with stratification the inefficiency of forced air heating systems becomes glaringly apparent. Simply put, transferring heat through the air is not an energy efficient solution.
Recognizing the lack of sustained warmth and cooler temperatures at lower levels in the rooms, most parents frequently bump up the thermostat to blow more warm air from the vents. This eventually raises the temperature, but significantly raises the monthly heating bill as well. There's no escaping the fact that a great deal of heat loss occurs with traditional blower systems. And though vents in some rooms can be closed in an effort to drive more heat to occupied rooms, hot air continues to escape, whistling from the closed vents. When the thermostat is cranked high enough the environment can be warmed, but forced air systems are notorious for heat loss and wasted energy.
Unlike transferring heat through the air, radiant heat warms a surface directly by expanding out from the heat source. This is the most efficient form of energy transfer. Heat radiates through objects via infrared radiation, warming objects and people in the room.
Radiant heat systems offer a significantly more efficient means for heating homes and businesses. In addition to being at least 30 percent more efficient, the floor heating systems provide an even, continuous level of warmth. And since radiant heat originates at the floor, you'll enjoy the natural benefits of heat rising, minimizing heat loss due to dissipation.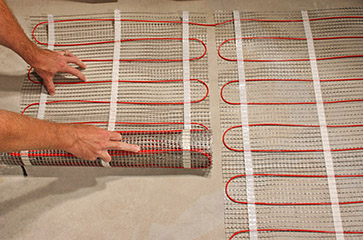 Both electric and hydronic floor heating systems are available. Most electric radiant floor heating systems utilize a network of resistance heating cable that is installed under the floor surface. Because there are no moving parts with electric heated floors, the systems are maintenance free. Warmzone offers a wide variety of electric floor heating systems, including ComfortTile heat cable, Prodeso® floor heating systems, FloorHeat STEP low-voltage systems, In-Slab heating, FoilHeat, and FilmHeat/RetroHeat, which is used for both new construction applications and retrofitting existing floors with radiant heat. Visit our Floor Heating Systems Overview webpage.
Hydronic floor heating systems with RAUPANELs utilize an efficient boiler to heat specially treated water that is then circulated through a closed loop of PEX tubing by a series of pumps. Hydronic systems require a special 'mechanical room' for the equipment. Because hydronic radiant heat systems can operate on natural gas or other fuel, the operational costs may be lower than those of its electric counterpart. But both electric and hydronic systems offer the luxurious and energy efficient benefits of radiant heat.