Radiant heat has recently come into the spotlight as an efficient and cost friendly method to heat almost any area. It is a product for both businesses and consumers that allows safety, flexibility, and comfort. From interior applications like heated floors to snow melting systems like Warmzone's industry leading ClearZone snow melting system, there are many ways a radiant heat system can improve your home or business in the cold winter months. Knowing how a radiant heat system works and what components are needed are some of the first steps in purchasing a system, but the most important aspect of the process is installation. That's why Warmzone offers free installation training for installers.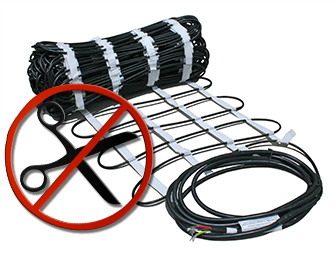 Proper installation is crucial to ensure a radiant system functions safely and as intended. Proper installation also ensures the longevity and optimum performance of the system. Since the correct installation is so important, get started here with some information from the experts at Warmzone to help assure your installation goes smoothly.
A properly installed radiant heat system begins with the components. When installing radiant heat under flooring, a heating element is the first component needed. Warmzone's ComfortTile heat cable is perfect for custom floor heating projects. The heat cable is available on spools or pre-spaced in easy-to-roll-out mats. These mats are simply rolled out and laid over the subflooring. Keep in mind that when installing the cable/mats, it is important that the cable is never cut or damaged.
Radiant floor heating systems are then controlled with programmable thermostats and a sensor for temperature control. After cables or mats have been laid out and secured, a licensed electrician must connect the wiring and complete your installation. (This is to ensure that your warranty remains valid.)
With Warmzone's ComfortTile floor heating systems, superior components are standard. ComfortTile cable and mats are suitable for almost any flooring, and Warmzone's programmable thermostats are designed specifically for radiant heat systems. They are simple to use and include an installation wizard for a quick and painless installation. A thermostat from Warmzone also allows for troubleshooting by exporting your information to the web for technical support.
Automated snow melting systems require heating cable, a contactor panel, and an aerial or in-ground sensor. These systems use the aerial or in-ground sensor to detect precipitation and temperature. When weather conditions warrant, the sensor triggers the system and power is sent to the heat cables. The system runs until the area is clear and then automatically shuts down. Aerial sensors are used for most home installations, while in-ground sensors are more often used for commercial applications. This makes an automated system a great way to save time, increase safety, and keep power costs low.
An automated snow meting system can require extra consideration when installing, so it is important to work with a provider that includes complete system design and layout services. This includes the proper materials and information necessary for the electrician, such as load calculations, breaker sizes and number of breakers. By working with Warmzone you'll be completely prepared before any installation takes place.
The ClearZone snow melting system is a proven industry leader, and includes unrivaled installation support from Warmzone. These systems can be put into driveways, sidewalks, steps, loading ramps, or just about any area that needs to be heated. When choosing and installing a snow melting system, it is important to make certain that you are using high quality, versatile, and sturdy components. At Warmzone, ClearZone snow melting heat cable is also available on spools for custom configurations, or mats for larger areas.
Warmzone's ClearZone snow melting heat cable is a twin conductor resistance heat cable that allows it to be installed into almost any medium. Special ClearZone cable is also available for installation in high temperature asphalt applications.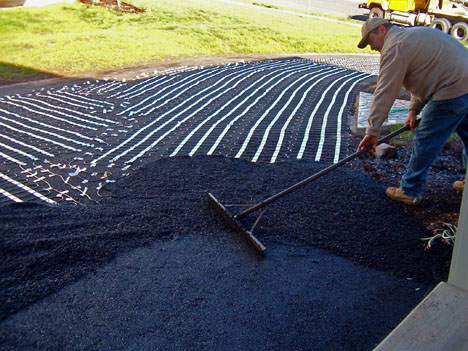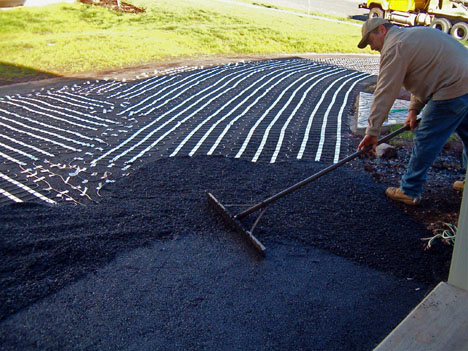 Great products will only work if an installation is done completely and properly. When laying out the cable for your system, it should be done carefully. Installers should be careful with the use of items such as metal rakes that may damage your cable. It is important once again to be sure you do not cut the cable, and the cables are spaced properly and never touching. (Generally, cables should be 3-4 inches apart, depending on your system.) The cables must be properly secured to the remesh as well.
To keep the cable from resting on the ground, place MeshUps plastic chairs under the remesh. These supports keep the cable off the ground during concrete pours and ideally, keeps the cable 2 inches from the surface being heated. This step prevents suboptimal performance and will help maintain the soundness of the cable in your snow melting system. If your cables are touching or not installed appropriately it can ruin the cable and make your system inoperable. Another important way to avoid an inoperable system is to test your cables when you receive them, as well as throughout installation.
When installing your aerial sensor, it is important for proper functioning that the sensor is unobstructed from the weather, so it can accurately detect temperature and precipitation. After installing your snow melting system or any radiant heat system purchased from Warmzone, fill out your warranty card. This is a step that many customers forget.
A snowmelt system can be installed by anyone, but the value of installation training and support is immeasurable in helping to avoid confusion and mistakes while installing. Warmzone is the industry leader in installation support. Not only can you or your installer contact a Warmzone professional at 888-488-9276 at anytime, you will also have access to other industry leading installation help that can make your installation quick and simple. With Warmzone's professional design services, you can receive a detailed AutoCAD, which includes all the details of your system, from layout, to the power requirements, and all of the technical specs. It helps to ensure the proper installation of your system.
If you have questions about your components or system layout, Warmzone has technical support experts on staff ready to help. Warmzone also has videos and general installation overviews available. Technical guides and installation manuals are also available online.
If you are more interested in training prior to installation, check out Warmzone University. Warmzone university is completely free and has personal installation training that you can complete online with your instructor. You can also take the training in person at Warmzone's office in Salt Lake City, Utah. An installation expert is also available to speak to at anytime at Warmzone, or if you need an electrician or contractor to help with installation, Warmzone can connect you with one in your area.
Warmzone understands the importance of installation and has the options to make sure your system is installed correctly. Check out Warmzone's industry leading services. If you're interested in a free quote or have other questions, contact a professional today at 888-488-9276.