Radiant Heated Floors – Home Remodeling Trends You can Really Warm up to
CBS Moneywatch.com recently identified twelve trends in home remodeling for 2011. The hottest projects—bathrooms, must-do remodeling and warmer interior design projects made the top three, with green living coming in at number nine. With growing concerns over rising fuel prices and carbon footprints, it's not surprising that more and more homeowners are investing in their homes to cut fuel consumption. Installing Warmzone radiant heated floors is a great way to keep up with remodeling trends and recoup on home improvement costs.
How does radiant heat work? Heated floors radiate heat from the floor up to keep you warm and comfortable when cold weather sets in. Two types of systems—electric heat cable and hydronic (water-based) tubing systems—when installed in the subfloor of your home act as heating elements to warm the surface above. These heating cables/tubing coordinate with a thermostat and sensors, as do traditional forced air systems, to provide heat to your home.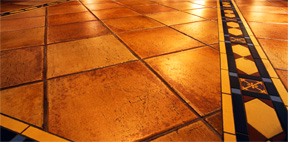 Warmzone radiant heat is green heat. Powered by electricity, electric radiant heat cables can heat a surface in 30 to 60 minutes. Unlike forced air systems, they are room specific. With the help of sensors and a programmable thermostat you can heat one room, or heat them all quickly and efficiently, saving money on your monthly gas bill. And unlike forced air systems, they do not belch out the dust and dirt that compromises air quality in your home.
A radiant heated floor installation equals cheap equity. Heated floors give your home an impressive level of comfort and customization with minimal investment. Not sure you want to install heated floors throughout you home just yet? Warmzone offers a variety of heat cable products that can be easily installed under the subfloor of any room in your home, whether it be bathroom tile, wood or even carpet.
If, as CBS Moneywatch.com suggests, the over-arching remodeling trend for 2011 is to tackle small projects while you wait to do the really big remodeling project that's on your list, why not start by installing heated floors in your home?  Unlike other "one-size-fits-all" radiant heat providers, Warmzone offers an array of radiant floor heating solutions designed to better match your individual project, and your budget. The good news—many of these floor heating products can be installed by do-it-yourself homeowners.
Heated Driveways and Roof Deicing
The Hottest New Trends in Home Remodeling
Among the hottest types of projects listed in the 2011 CBS Moneywatch.com twelve trends in home remodeling are the "must do" and green remodeling projects. If you are finally replacing your roof or pouring a new driveway, consider incorporating a snow melting system into your project list. Radiant heat is green heating technology that actually enhances the life of your roof or driveway without impacting your overall fuel consumption.
Warmzone roof deicing systems are designed to prevent the buildup of snow, ice and large icicles around roof eaves, drains and valleys, preventing damage to your roof and the potential for injury from falling icicles. And you have several roof heating options to choose from.
How it works
Warmzone RoofHeat heating element is polypropylene fused during fabrication to achieve water proofing and protection from UV rays, alkaline or salt damage. Lightweight, flexible and easy to install, these panels can be placed under new or existing asphalt, shake or tile shingles, making roof heating a low-cost, viable home remodeling project.
Installing a heated driveway is another way to add safety, convenience and efficiency to your household while building equity. Warmzone cable is available in pre-configured mats, making easy to roll out under newly poured driveways or pavers. The cable generates heat with the help of an automatic sensor that detects inclement weather and activates the system. It immediately detects changes in temperature and moisture associated with snow and similar weather conditions to warm up your driveway so it's clear before your boots (or tires) ever see the pavement.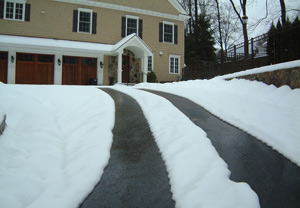 Whether you choose an electric snow melting system for your roof or your driveway, you'll also have the peace of mind that comes with green living. Protecting your roof from inclement weather and damage keeps heat in, so your furnace doesn't have to work as hard, saving you in fossil fuel costs. A Warmzone radiant heated driveway system also saves your driveway from damage caused by harsh snow melting chemicals or the scraping of snow removal equipment, plus the energy you expend clearing them, whether you're pushing a gas-burning snow blower, or shoveling.
Snow and ice melt systems provided by Warmzone deliver first class performance, efficiency, ease of installation and energy conservation. Partnering with Warmzone to complete your home improvement project means you'll get the valuable input from radiant heat professionals needed to find a perfect solution for your heating requirements that's within your budget, so you can save some green!
Request a FREE quote or call 888.488.9276 today.