Choosing the Best Radiant Heating System for Your Needs
Radiant heat systems are a great way to make your life at home or work safer, more comfortable, and simpler. They can be installed under a wide variety of interior surfaces, as well as exterior applications such as walkways, stairs, ramps, and driveways. When considering radiant heat, making the decision between an electric system or a hydronic system can often be daunting. Both types of heating systems have advantages, but it is important to have all the information you need before deciding which is best for your home or business.
Hydronic Radiant Heat
A hydronic radiant heat system is complex and requires many different components. Hydronic floor heating systems work by heating specially treated water and pumping it through flexible PEX tubing embedded under the surface. These systems use a gas or oil burning water heater (boiler) to heat the water, which is then circulated through the manifold and tubing by electric pumps. At Warmzone, only the most efficient condensing boilers and industry leading components are used when installing a hydronic system. Because of the various components and complexity of hydronic systems, the installation costs tend to be notably higher than those of electric systems.
Hydronic snow melting systems also utilize the combination of water and propylene glycol (anti freeze) that is heated and circulated through a closed loop of PEX tubing. In addition to the liquid retaining heat for a time after the system has been shut down, the condensing boiler can be run by almost any energy source. As a result, hydronic systems may boast lower operating costs than those of similarly sized electric systems. This makes hydronic systems a popular choice for large installations.
Fully automated hydronic snow melting systems from Warmzone are controlled by premier components, including an aerial- or pavement-mount snow sensor. These sensors detect precipitation and temperature to activate and shutoff the system as needed.
Electric Radiant Heat
One of the most popular forms of radiant heat used today is electric. An electric radiant heat system works by using a thin resistance electric heating cable that is embedded in the medium, or directly under the flooring. Electric radiant heating can be installed to warm almost any type of flooring in your home; and can even be added to heat existing floors if the floor joists are accessible.
Warmzone floor heating systems are energy efficient and exact, as each separate flooring area/room can be controlled by an individual thermostat. The other advantages of electric radiant heat include easier customization and a more rapid response time when compared to hydronic radiant heat. An electric radiant heating system is much easier to install than a hydronic system, and is commonly used for interior heating applications as well as heated driveways and outdoor applications, including roof deicing.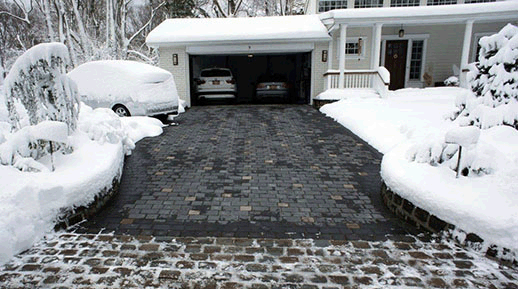 An electric snow melting system heating a paver driveway.
Electric systems may have an advantage in the outdoors, as they heat rapidly and can more easily prevent buildup of snow or ice. The Clearzone snow melting system is one of the premier driveway heating systems available. It uses a special line voltage cable that produces 35-50 watts per square foot, and is ruggedly designed and constructed to withstand concrete pours and high heat from asphalt installations. Just like the hydronic system, the electric system uses an aerial or an in-ground snow sensor to engage and disengage the system. This system also has no moving parts, so it requires little to no maintenance, and does not require a dedicated space for mechanical components like that of a hydronic system. Electric heat can be a great cost-effective option for driveways. (Refer to our heated driveways web page for general information regarding Calculating a Heated Driveway's Operating Cost.)
A radiant heating system is a great long-term investment that can increase the resale value of your home and make your business safer and more efficient in harsh winter weather. If you still have questions about radiant heating systems please visit Warmzone.com, or contact a friendly Warmzone professional at 888.488.9276.