Many New York City area homeowners have turned to radiant heated floors for use as their primary home heating source or to supplement their existing home heating system. In addition to providing luxurious warmth, the energy efficiency and silent, maintenance-free operation of radiant heat has attracted homeowners throughout the tri-state area. As owners of radiant floor heating systems have attested, nothing is finer than walking on warm floors during a cold winter day.
Warmzone offers a variety of electric radiant floor heating systems, as well as hydronic heated floors for homeowners and businesses alike. And because Warmzone manufactures and carries the industry's most trusted floor heating systems, consultants can evaluate the customers' needs and determine the best system for heating each specific floor type. Warmzone's selection helps to ensure that customers receive the most effective floor heating system for the unique layout and type of flooring in their home.
While there are some standout radiant floor heating systems, it is important to know that no single floor heating system is ideal for every type of flooring. So avoid any radiant heat provider that makes such a claim. It's critical to speak with an unbiased radiant heating expert who can offer you a wide selection of reputable floor heating options to choose from – without bias towards one system. Don't be talked into purchasing a floor heating system simply because it's the only system that the provider offers. Deal with an industry leader that can show you a wide selection of radiant floor heating solutions and explain the benefits and traits of each one.
Radiant heated floors are commonly installed in bathrooms and rooms where small children spend a majority of their time on the floor. Heating homes from the floor up results in greater efficiency and comfort. As such, homeowners in New York City and throughout the tri-state area are turning to radiant heat to optimize their home heating options.
Heating Tile Floors
The most proven system for heating tile floors is the ComfortTile floor heating system. ComfortTile features thin 1/8 to 3/16-inch diameter heat cable that is available on spools or pre-spaced on flexible fiberglass mesh backing with adhesive so it can be rolled out and then secured to the subfloor for easy installation. (See the photo below.) ComfortTile heat cable is also one of the most versatile floor heating systems.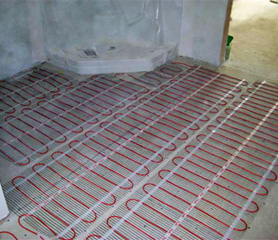 ComfortTile heat cable can also be used in conjunction with the HeatShield floor heating insulation panels. HeatShield features ½-inch thick, lightweight polystyrene insulation panels covered with thin, specially profiled aluminum to reflect all the heat upwards to the floor. ComfortTile heating cable is inserted into the grooves of the HeatShield panels.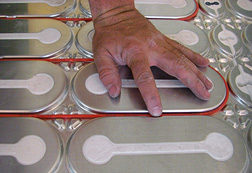 Heating Hardwood and Laminate Floors
Many homes in New York feature hardwood or laminate flooring. Warmzone offers several choices for heating hardwood and laminate, but the most popular solution is the low-voltage FloorHeat STEP system.
This unique floor heating system features a self-regulating, semi-conductive polyethylene heating element. Because the flexible heating element is so thin, it won't affect the floor buildup, weight loads, or your choice of flooring. (Learn more about heating hardwood floors. or read our tips for Installing Heated Floors.)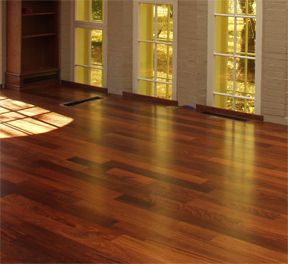 (The unique attributes of FloorHeat STEP make this versatile polymer heating element a popular choice for heating roofs as well. RoofHeat STEP is one of the most trusted roof heating systems available.)
Heating Concrete Underfloor Slabs
The In-Slab radiant floor heating cable is designed for installation in new concrete slab applications. The heat cable is embedded at least ½-inch below the floor's surface. In-Slab cable uses the concrete slab to efficiently store and distribute heat evenly throughout the intended area. The cable is affordable and can be installed to warm any type of flooring, including hardwood, carpet, tile, and more.
Heating Existing Floors
Warmzone also carries RetroHeat, a thin "film" heating element that can be stapled up between floor joists to heat existing floors. The paper-thin heating element can be cut on site and is then stapled up between the floor joists and common Batt insulation is then installed over the heating panel. This directs all the heat upwards to warm the existing floor.
These are just some of the choices New York residents have to heat their floors. Whether you're looking to heat carpet, tile, marble, hardwood or any other type of floor, you won't go wrong dealing with Warmzone.
In addition to Warmzone's industry leading products, Warmzone provides unparalleled customer services, which include professional system design, free installation training, and personal, expert installation support. Call a radiant heat professional today at 888.488.9276 to discuss your floor heating options.