Continued: Read Radiant Snow Melting Systems (Part I)
Heated Driveway, Calgary, Alberta Canada
When I'm outside, a lot of folks in my neighborhood stop and have conversations or ask questions about the heated driveway. I know that some think this would be extremely expensive to operate, but last month, even with all my Christmas lights on every night, I saw only a $150 increase in my electrical bill.
Dennis, a homeowner in Calgary, Alberta, Canada, appreciates the convenience and relatively low cost to install and maintain his heated driveway. "We only have two or three months of significant snow in Calgary," says Dennis, "so it won't break the bank – or my back (shoveling) – and delivery people don't have to crawl up the slope in fear of slipping anymore!"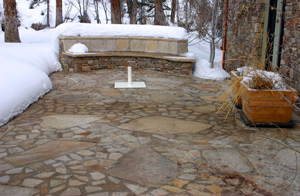 When you consider the benefits of electric radiant heat under driveways, walkways and other common areas, whether you're a business owner or a homeowner, it simply makes good "dollars and cents" to install a radiant heat snow melting solution. For just pennies on the dollar, you can anticipate and expect your driveways and sidewalks to be clear as the snow falls. How many of your neighbors can say that? And a clear driveway or walkway not only clears the path for foot traffic, it also minimizes possible consequences of improper or inadequate snow removal. One slip and fall not only compromises the safety and security of loved ones, employees and even customers. A heated driveway and/or sidewalk dramatically increases your liability as a home or business owner.
As they say, time is money, whether you're on your way to work or waiting for your customers to arrive, so why wait for your snow removal service? You don't have to play the same old game of beat the clock any longer–Warmzone electric radiant snow melting systems are designed to sense changes in moisture and temperature, changes that indicate impending snow. The system is alerted and the heating cable is activated before snow hits pavement, so your walkways, steps, sidewalks and driveways are safely cleared before your boots ever see the pavement. Considering the initial installation cost and overall operational costs (literally pennies on the dollar) of your electric radiant heated snow melting system over time, you'll benefit far more in the long run from snow melting system that is faster, more dependable and even less damaging than the local crew you've been hiring and waiting on to clear your driveway or parking lot.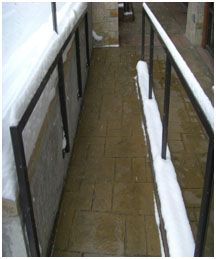 What makes Warmzone radiant snow melting solutions so popular? Flexibility, for one. Warmzone's ClearZone radiant heating cable is the strongest, most durable, effective heat cable on the market and can be purchased in pre-configured mats, or on the spool for more customized applications. It's also safe and effective to use under just about any type of surface, including asphalt, concrete, tile, brick and more. Which is why you'll find Warmzone snow melting solutions under a variety of surfaces including: city sidewalks, walkways and parking areas; outdoor steps and stairways; loading docks and platforms; even ramps and bridges.
Typically our competitors are a lot less flexible, offering "one-size-fits-all" snow melting systems, from products, to pricing to installation. Choosing Warmzone means you benefit from the largest selection of radiant heating systems. Warmzone is not limited by one manufacturer, system or solution. With a huge selection of products to choose from, plus the experts and the expertise to complete a project, we can design and execute the installation of the optimal radiant snow melting system for your situation. Warmzone's professional designers will thoroughly evaluate your radiant heating system before you install it to create the optimal solution for you. You'll know the electrical requirements, technical specifications and system performance expectations before one foot of heat cable is installed.
Our valuable service minimizes any "installation surprises" that you may otherwise encounter, which ultimately saves you time and money in the long run. So if you're shopping around and evaluating your radiant heat options, make sure you compare product price, quality, experience and customer services. You'll discover why Warmzone is the trusted radiant heat leader.
While it's true that Warmzone radiant heated snow melting systems stand to save you a few bucks over traditional snow removal services, the real value comes with the benefits of having a fully-automated heated driveway that is dry and clear before you ever leave the house.
If you can conceive it, Warmzone can achieve it. Warmzone has the experts, and the expertise, to guide you through or execute almost any installation—regardless of the scope—while satisfying your requirements as well as your budget. We offer a comprehensive menu of residential and commercial radiant snow melting solutions, along with the engineering and design services to do the job, and do it well, from large commercial projects to small, custom jobs. Why not call us at 888-488-9276 for your next radiant heated snow melting project for a free consultation and the best solution to your snow removal needs.
Go back to Part I of Radiant Snow Melting Solutions