Repaving and Retrofitting Asphalt Driveway with Radiant Heat
Continued from Installing a Radiant Snow Melting System (Part I).
The ClearZone snow melting system is unique because it isn't limited to new construction applications and can withstand the rigors of concrete pours and hot asphalt. If you have an existing asphalt driveway and intend to re-pave it, you can retrofit your driveway with a ClearZone snow melting system. The heat cable is secured to the existing asphalt with clips and nails and only needs to be embedded under just ½-inch of asphalt. The new asphalt is hand shoveled onto the cable and then compacted. ClearZone cable is simple to install and provides the best performance for heating asphalt driveways.
Fully Automated
The heat cable is wired to the master controller, which is usually mounted on a wall in the garage. An aerial or pavement mounted snow sensor is wired to the controller. When the sensor detects precipitation and the temperature is below a set point (usually 39°F.), it signals the controller, which then sends power to the heat cable to warm the driveway. While the system is fully automated, the controller also features manual override capability for times when you may need to melt a snow drift or ice that formed in a shady spot.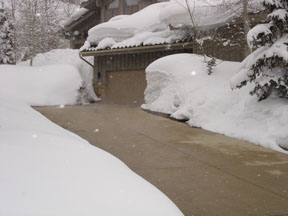 In addition to the many different types of surfaces that the ClearZone snow melting system can be installed under, you have many custom configurations that you can choose from. Warmzone will work closely with you to keep within your budget while providing the optimum snow melting system for your needs. As a leading provider of radiant heat solutions, Warmzone will provide a detailed design of your snow melting system so that you know all the electrical and layout requirements prior to any installation. Warmzone also provides you with technical support during the installation.
Once installed, radiant snowmelt systems are virtually maintenance free, and in addition to helping preserve the quality of your concrete/asphalt driveway or sidewalks, it also eliminates the damage caused to surrounding grass and vegetation from salt and corrosive snow melting chemicals. With your radiant heat snow melting system, there's no need to apply salt or harsh snow melting chemicals to your driveway. So enjoy those snowy mornings from the warmth of your living room and admire your clear driveway as you sip your hot coffee. The days of shoveling and salting are over.
When it comes to installing a snow melting system, it pays to work with the best. In addition to Warmzone's competitive pricing, you'll receive top-notch customer service. Call and talk to a radiant heat expert today (888.488.9276) to learn more about heated driveways and snow melting systems. You can also send Warmzone your project information and receive a free radiant heat quote. There's no obligation.
Go back to Installing a Radiant Snow Melting System (Part I).