Radiant Heated Driveways can be Installed in a Variety of Applications
Radiant heat snow melting systems can be designed, engineered and installed in any size, shape and type of driveway. From large parking lots to small driveways, steps or sidewalks, radiant snow melting systems can accommodate virtually all your snow melting needs. But the custom options don't just stop there. You have a variety of options to choose from to fit your budget. You can heat your entire driveway area or just a strip down the middle, or perhaps just two 2-foot wide tire tracks. When you work with a trusted leader like Warmzone, your system will be designed and engineered so that it is the best customized radiant heat solution for your needs.
The ClearZone radiant heat system is one of the most proven snow melting systems on the market, which is why it's not only a favorite among homeowners, but construction professionals as well. The heat cable can be installed in a variety of applications, including concrete, asphalt, and under pavers.
Concrete Heated Driveways and Sidewalks – New Pour
For years the ClearZone snow melting system has proven itself to be one of the most versatile and reliable radiant snow melting systems on the market. It is installed in numerous mediums, but concrete is the most common application for ClearZone heated driveways. The rugged heat cable is designed to withstand the stress of heavy concrete pours. During the installation, the ClearZone cable is laid out and then zip tied to the wire remesh. The concrete is then poured over the cable.
New Asphalt Construction Heated Driveways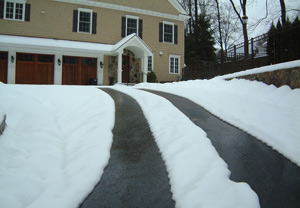 Hot asphalt can damage some lower quality heat cables, but ClearZone cable is designed to withstand both the extreme temperatures and stress (from the compression) of newly poured asphalt. The radiant heating cable is laid out on the base surface (usually compacted sand), and the asphalt is then hand shoveled on top of the cable and then compacted.
For asphalt applications, it is recommended (but not required) to install 1-inch rigid insulation underneath the base surface. The insulation can be installed underneath the base surface or it can be laid on top of the base surface and the snow melting cable can then be secured on top of the insulation.
Brick Paver Driveways – Installation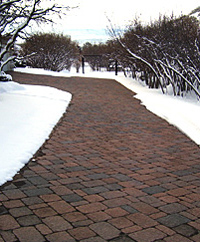 ClearZone radiant snow melting systems are the most effective systems for heating under pavers. Installing a radiant snow melting system under brick pavers is also one of the easiest radiant heat installation methods. The heating cable is laid out on the base surface and the pavers are installed as normal, directly over the cables. Because the ClearZone cable has been tested and approved for wet conditions, the cable can come in contact with moisture without its performance being affected.
Continued – Go to Installing a Radiant Snow Melting System (Part II).