Warmzone's Electrifying Dexterity in Outdoor Radiant Heating
Looking for the A to Z of radiant heating solutions, or somewhere in between? Warmzone offers a full menu of complete radiant heating solutions, and more importantly, they do it well. They have a vast portfolio of industry-leading products and services to choose from. And just like their interest in serving up top notch electric radiant heat and hydronic heating solutions, they take a vested interest in maintaining customer relationships for life. You won't find better customer service. From your initial contact to your final installation, you're more than a customer–you're part of the Warmzone family. As a Warmzone insider, you can expect unbeatable customer service, free installation training, complete design and engineering services, along with installation support before, during and after your home improvement project is completed.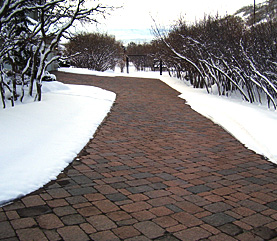 How do Warmzone radiant snow melting solutions work to preserve the environment surrounding your home? Electric snowmelt systems utilize durable, highly efficient cable that distributes heat evenly across the surface of your driveway or sidewalk. The cable is rugged enough to be installed in new concrete pours, under pavers and even in harsh, high-temperature new asphalt construction projects, alleviating the need for shovels, snow removal services and snow melting chemicals—all of which can have devastating affects on the exterior of your home, from your lawn to your exterior landscaping. Warmzone ClearZone heating cable is the most popular driveway snow melting cable and features efficient, maintenance free operation and a 10-year manufacturer warranty.
Of course, no single radiant heating system is perfect for every type of job. What makes Warmzone more attractive than those "other" radiant heat providers? It's their ability to match you with the best product for your project at the best price. Warmzone doesn't partner with just one manufacturer. They carry a variety of top radiant heat solutions for just about any application, allowing them to deliver sincere, non-biased recommendations that best suit your project requirements. Warmzone's experienced staff is well-versed in each and every one of the products available, and can get you matched up with the best product at a price you can live with.
From heated driveways, heated steps, portable snow melting, heated sidewalks, and heated roofs to gutter and downspout heating solutions, Warmzone's definitely got you covered; and all these systems can easily be customized:
Radiant heated driveways: Warmzone's ClearZone snow melting system can heat almost any size, shape and type of driveway. By the spool or with the help of pre-configured mats, ClearZone electric radiant heating cable can be installed under just about any surface (asphalt, pavers or a fresh concrete pour). Driveways can even be retrofitted with a ClearZone snow melting system.
Radiant roof heating and gutter trace systems: These best-in-class radiant heat systems prevent hazardous ice dams and icicles from forming on your roof. They eliminate prolonged ice damming and the severe effects of seepage through roof decking that can work its way inside your home, damaging ceilings, walls and floors, resulting in mold growth.
Portable snow melting: WarmTrax portable snow melting solutions, including portable heated traction mats and stair treads, are a great alternative to the permanency of embedded snow melting systems for heating outdoor walkways, ramps and stairs. Made of electrically operated heating elements sandwiched between two protective surfaces of non-slip rubber, WarmTrax heated traction mats are a popular, affordable and very versatile snow melting solution that serve a wide variety of uses.
    (End of Part I)
Warmzone's Outdoor Radiant Heating (Part II)
Many of these snow melting products (and projects) are perfect for first-time do-it-yourselfers. If you're ambitious enough to take on the project, Warmzone is right there to back you up. Not sure where to begin with your next radiant heat project? Warmzone professional designers will evaluate your radiant heating system thoroughly to create a detailed CAD of your system layout. You'll know the electrical requirements, technical specifications and system performance expectations before one foot of heat cable is installed. You get all the details with minimal installation surprises to save you time, money, and in the end, the heartache of a radiant heat project gone wrong.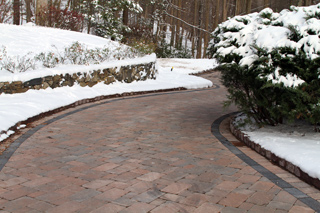 It's because of this flexibility—in the products, services and ongoing support Warmzone delivers—that gives them the edge in delivering superior radiant heat solutions for heated driveways, walkways, and roof deicing. Warmzone systems can be customized to meet the needs of virtually any area that requires snow and ice removal or ground thawing—for residential customers and contractors alike. And Warmzone's reach extends throughout Northern America. Dennis S., a Warmzone customer in Calgary said this in regards to the performance of his electric radiant heated driveway, "This past weekend, we received over four inches of snow and temperatures of 15 degrees C – that's like Green Bay cold." Despite the ferociously cold temperatures, according to this happy customer, "the heated driveway did its job." The driveway has also attracted a lot of attention. "A lot of folks in our neighborhood stop by on their walks and have conversations about my driveway, or ask questions if I am outside."
Dennis is just one of many satisfied Warmzone customers able to realize the benefits of a radiant heated driveway. The biggest, of course, is the benefit of not having to worry about snow removal. No more back-breaking shoveling or wallet-breaking checks to the snow removal service. Because, after all, when you can operate the system for just pennies on the dollar without any effort at all, it just makes plain dollars and cents to install a radiant heated driveway. And what about those curious neighbors Dennis describes? It's actually quite a boon to him if you think about the positive effects such talk might have on his home's equity. In a word, radiant heat is an incredibly practical way to boost the equity in your home, while making your life easier. And the word is definitely getting around.
Ready to see how Warmzone can help you find the perfect fit in radiant heated snow melting solutions? Visit them online at www.warmzone.com or call 888.488.9276 for more information.