Radiant Heat Isn't Just for Heated Driveways
Maybe you've put your shovel down already by treating yourself to a radiant heated driveway system. But the benefits of radiant heat aren't limited to heated driveways and sidewalks. When it comes to radiant heat, Warmzone's got you covered from your head to your feet.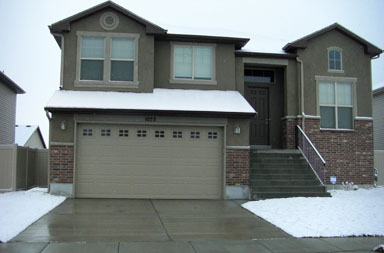 Have you ever walked out of your home on a snowy day to be greeted by large, heavy icicles or the drip of melting snow on your head? Snow accumulation on rooftops is more than a nuisance if you don't have a radiant heated snow melting solution to protect you and your home. As the snow melts and refreezes, it creates ice dams where the repeated freezing and melting of water finds its way under roof decking and eventually into your home. Plus, large icicles not only can damage your gutters or hurt people below, but drip onto the sidewalk, causing slick, dangerous conditions.
Shoveling snow and salting the steps and walks are not always completely effective. Walking out your front door can be treacherous as you navigate slick, icy patches hiding under fresh layers of snow. Even with constant shoveling and steady applications of snowmelt chemicals, nothing can ensure the same level of safety as a radiant snow melting system.
The good news is that the same radiant heat technology in your heated driveway application can be used for roofs, stairs, ramps and more. With Warmzone roof deicing and gutter trace systems, you can eliminate ice dams and snow buildup. And these energy efficient systems are fully automated and maintenance free. Say goodbye to icicles and the steady dripping that can form slick spots on your porch or walks as the temperatures vacillate. Available in cable right off the spool, polymer panels or paper-thin "Film" heating elements, Warmzone radiant heating systems are proven industry leaders that are unobtrusive and effective. The fully-automated feature means they only activate as needed to keep your areas free of snow and ice 'round the clock.
If you're not ready to invest in a permanent solution, Warmzone also offers portable heated traction mats. These heated snow melting mats make it easy to enjoy the benefits of radiant heat on sidewalks, porches and even on steps. Just lay them down and plug them in. Made of non-slip rubber, they're flexible and as durable as automobile tires, so they can withstand harsh weather and repeated use. The stair heating mats are available in rubber and aluminum.
Because radiant heated snow melting mats come in different sizes, they can also be used for walkways, kennels, porches, disability ramps and more, providing a reliable solution for slip prevention. Keep your trafficked areas free from slick ice and snow.
Whether you're looking for an embedded snow melting solution or small, portable solutions, Warmzone has a number of great products to make your property safe and secure during winter weather. Call 888.488.9276 to learn about the many custom options for heating floors as well as exterior snow melting solutions.
Heated Tile Floors
Options for Radiant Floor Heating Systems
Warmzone offers one of the largest and most diverse selection of radiant floor heating solutions available. If you're looking to install heated tile, hardwood or other floor types, you can be assured that Warmzone will have the ideal solution for you.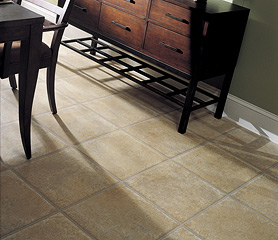 Radiant floor heating is particularly well suited for warming ceramic tile floors. Tile flooring not only adds beauty and elegance to a home, but tile heats quickly and retains warmth for long periods, making a heated tile floor a very effective, energy efficient method of heating.
ComfortTile heating cable is the most highly recommended floor heating system for warming tile floors. ComfortTile floor heating cable can be purchased on spools as well as in mats. The floor heating mats feature heat cable that is pre-spaced with an adhesive-backed fiberglass mesh that can be rolled out for quick, simple installation. The 24-inch wide mats are pre-terminated for use with 120 and 240 volts, and are available in a variety of lengths. Thin metal straps are used to space cable that is purchased in lengths off a spool. The strapping is screwed into the subfloor and the cable is then secured to small eyelets/hooks at the desired space.
CT heat cable is ⅛-inch in diameter and can be installed on a variety of subfloors, including: plywood, concrete, pre-stressed concrete panels, crack isolation membrane or any floor surface compatible with the mats' adhesive backing. Depending on your subfloor, thinset or mortar is applied directly over the heat cable, followed by the installation of the tile.
The ComfortTile floor heating system is an industry leader and comes with a 10-year warranty. ComfortTile is extremely versatile and can be used to heat virtually all types of floor surfaces, including marble, slate, laminates and hardwood.
FloorHeat and FilmHeat feature thin heating elements that require no floor buildup, making these systems ideal for heating hardwood floors. Both of these systems can be used for heating existing floors as well. If you can access the floor joists from below, then you can install these heating elements – which can be stapled up between the joists.